How To Get Your Licence In ACT
by EzLicence Last updated 19 Jan 2022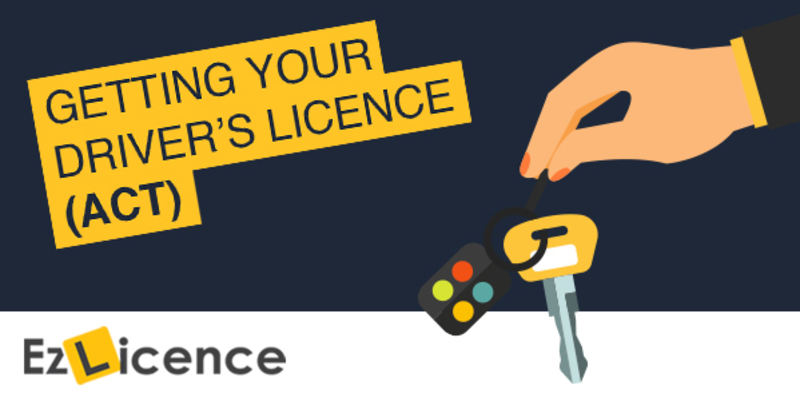 All you need to know about getting your licence in ACT
Taking the leap into the world of driving can be daunting but it will be one of the most rewarding things you'll experience in life - to enjoy that sense of achievement, and independence. We're here to walk you through a step-by-step guide for everything you need to know about getting your P1 licence in ACT.
You might have questions about how long you need to hold your L plates before you can sit the driving test or how many hours you need to complete, don't worry we're going to cover all that and much more! Let's get going with the fundamental requirements for getting your P1 licence.
How old do I have to be to start driving?
Although you can start driving at the age of 15 years and 9 months, you won't be able to obtain your P1s until you are at least 17 years of age and you must hold your Ls for at least 12 months (6 months for those 25 year or older). For those who are overseas licence holders things are a little different depending on your situation. Click here for more information.
What do I need to do to get my Learner's Licence?
You must complete the Pre-learner licence course, including passing the ACT Road Rules knowledge test online. You can do a practice knowledge assessment here. Once you have passed the knowledge test you must apply for your learner licence at an Access Canberra Service Centre.
To successfully process your application the staff at Access Canberra will require you to:
Complete an eye test

Present your completed knowledge test certificate

Supply proof of your identity and residence

Pay the registration fee
I now have my Ls, what do I do next?
Congratulations! It's time to start learning the practical skills of driving a car. We recommend you start taking regular driving lessons with a qualified instructor as soon as possible once you have your learner's licence. This will ensure you set yourself up with great habits for the future and give you the best chance of meeting the competency standards required to obtain your provisional licence.
How many hours do I need to spend with a supervising driver before I can get my Ps?
For all learners who are under 25 years of age, you will need to log a minimum of 100 hours of supervised driving, including at least 10 hours of driving at night time. For those learners who are over 25 years of age, you will need to log a minimum of 50 hours of supervised driving, including at least 5 hours of driving at night time.
In the ACT, there is a scheme that allows you to receive up to 20 bonus log book hours if you take lessons with an ACT accredited driving instructor. All of our driving instructors are able to support this scheme.
For every 1 hour structured driving lesson you complete with a licensed ACT driving instructor, you can record 3 hours driving experience in your log book. A maximum of 10 hours of lessons will be accepted and recorded as 30 hours driving experience.
Please note, you must have completed your minimum hours before you can sit the Government test or complete the final unit of the Competency Based Training and Assessment (CBT&A).
What is the Hazard Perception Test?
The Hazard Perception Test (HPT) is an online test that measures your ability to detect and respond to dangerous situations on the road. You must complete the HPT prior to upgrading your Learner Licence to a Provisional Licence. You can sit the HPT once you have held your Ls for at least 3 months. Click here for the HPT (there's also a section where you can sit practice questions).
Should I do the Logbook (CBT&A) method or sit the Government one-off test?
There are two pathways to getting your Ps in the ACT.
Option 1:
You can choose the traditional pathway and book a one-off practical assessment with a Government Assessor. This will be a 45min drive (approx.) testing a range of driving skills.

Option 2:
You can complete the Competency Based Training & Assessment course (Logbook) with an accredited driving instructor. This is a course of 22 different skills that you will tick off with your driving instructor.
The main benefit of doing the government test is that it can sometimes help already skilled and confident drivers obtain their licence faster and work out to be a cheaper option. One thing to watch out for though is that there is a waiting period to sit the test and if you fail costs can add up very quickly.
Logbook (CBT&A) allows you to progress at your own pace and you'll be assessed on your final drive (a 30 min test at the end of your training) by the same instructor who has been teaching you.
The good news is, you're never locked into one method - you can switch any time. If you're unsure we recommend booking a driving lesson and asking your qualified EzLicence instructor for advice on which pathway works best for you.
I have completed all of the above. Is there anything else to bear in mind?
This is where the fun starts. You will be ready to attend an Access Canberra Service Centre to be issued with your Provisional Licence.
Make sure you bring along the following:
Learner drivers licence

Current fee
Proof of residency

Completed logbook of supervised hours

Hazard Perception Test (HPT) certificate

Competency certificate from either a Government Assessor or your Driving Instructor (if you completed CBT&A)
You'll be issued with a temporary Provisional Licence. A snazzy card with your photo on it will arrive within a couple of weeks in the post.
Hopefully this step-by-step guide has provided you with the information you need to progress your driving journey. Our EzLicence instructors in Canberra are ready to help you along the way.