How do I get a Queensland driver's licence?
by EzLicence Last updated 19 Dec 2019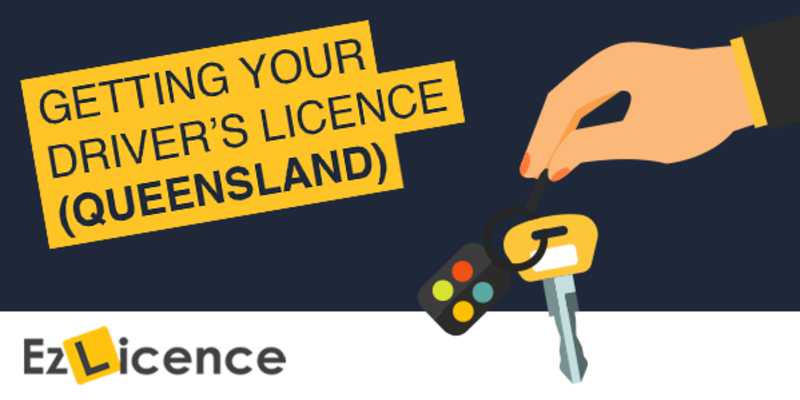 To get an unrestricted Queensland driver's licence there are a number of stages you are required to progress through. This 'graduated licensing system' helps new learner drivers gain experience and become safer drivers by spreading the learning to drive process over a maximum of 4 years.
There are essentially three main learning stages you must move through before you qualify for an open driver's licence. You must first qualify for a learners licence and in due course meet the requirements to progress through the P1 & P2 probationary licence stages.
Getting your learner permit
A learner permit allows you to begin learning to drive. Once you have your 'L' plates you will be able to drive a car under supervision.
To get your learner permit you must be at least 16 years old and you must sit and pass the Road Rules Test, this is a theory test about the road rules.
You are also required to prove your identity and pay the relevant licence and test fees.
Your Keys to Driving in Queensland booklet will help you learn the road rules.
EzLicence provides a FREE practice Road Rules Test. Our questions are based on the real test and you can practice as many times as you like.
Practicing the test is a great way to make sure you pass first time.
You can apply for your learner permit here.
Getting your P1 or P2 probationary licence
A probationary driver's licence in Queensland has two stages, P1 and P2, and allows you to drive unsupervised with a range of restrictions. P2 restrictions are slightly less extensive than those on a P1 licence, and you can read about the differences here. If you are under 25 when applying for a probationary licence, you will start on a P1 licence. If you are over 25 when applying for your probationary licence you will go straight to a P2 licence.
You are eligible to progress to a probationary licence if the following criteria are met:
Under the age of 25 progressing to P1 probationary licence (red Ps):
Progressing from P1 to P2 probationary licence (green Ps):
Aged over 25 progressing to P2 probationary licence (green Ps):
Learner drivers that graduate from their learner permit after the age of 25 bypass the P1 stage and immediately progress to a P2 probationary licence.
You can book the tests to go for your P1 or P2 licence here.
Getting your open licence
You may be eligible for an open licence if you are at least 20 and you have held your P1 or P2 licence for the required period:
To graduate to an open licence you are not required to undertake the Hazard Perception Test. If you pass a practical driving test for an additional or higher class of licence and you already hold an open licence, your licence will be re-issued to you showing the additional or higher licence class.
You can apply for your open drivers licence here.