5 Reasons Why You Should Book A Driving Instructors Car For Your Test
by EzLicence Last updated 21 Nov 2019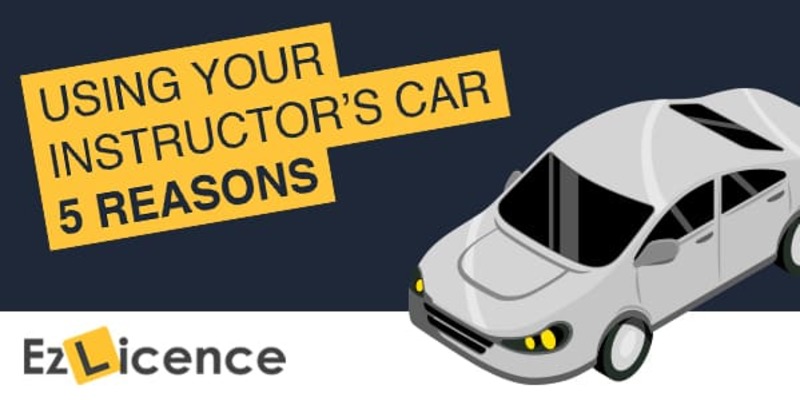 For a lot of learner drivers, the driving test can be a stressful experience to prepare for. You have to demonstrate to a testing officer that you have a high level of driving ability in live traffic, you have to pass a knowledge test on the layout of the car and where all the controls are, and you will have to perform several slow speed manoeuvres. It's a lot to remember.
Then you find out you ALSO need to supply the vehicle that you're going to use for your driving test.
Very few learner drivers have either their own vehicle or spare family vehicle just sitting around ready to use whenever. If they do have a car of their own it's usually "knockabout" quality, functional enough to get from A to B for the time being but not exactly winning awards for quality and reliability.
In either case, you're borrowing someone else's vehicle or using one that has question marks over its roadworthiness. You're at the mercy of another person letting you use a car, and the condition of the car is going to determine whether you'll even get to take the test with it.
There are a variety of problems that you can encounter on the day of your driving test. From problems with the car, to delays when your schedules don't align perfectly, to last minute cancellations because something comes up.
In this article we're going to look at a few reasons you should consider booking your driving instructor's car for test day to avoid problems, and how it may help you do better during the test itself.
Book the driving test at a time that suits you
First step in preparing for your driving test is to book a date and time at your local testing centre. Don't forget that it's up to you to organise a car too.
A lot of learner drivers choose to take their driving test using a vehicle that belongs to a parent or friend. Parents will often encourage using their vehicle, and occasionally friends will offer the use of their own vehicle. In either case however, this means you will have to plan the use of their car around their schedules, and it can severely limit your opportunities for taking the test at a time that works best for you.
If you've already been taking driving lessons with a dedicated instructor then they have mentioned it to you, but many driving instructors will hire out their car for learner drivers for use during the test.
By using driving instructor's car for test day itself, you don't have to worry about juggling your available schedule with driving test times and the availability of other people or their vehicles.
Transporting the vehicle before and after the test
You've got your driving test booked, you've got a vehicle lined up to use on the day, and you're getting yourself mentally prepared now.
Do you have a guaranteed way of actually getting the vehicle TO the driving test though?
If you're using a vehicle belonging to a friend or a parent, you'll need them to accompany you on the test day for the duration, even if it's just so they can drive you there (and possibly back again). Unlike all the driving lessons leading up to this where the driving instructor would use pick up and drop off points of your choosing, you will now need to meet your testing officer at a dedicated licensing centre (or similar appropriate venue for your state) for the driving test.
Remember that prior to passing the test you're not legally allowed to drive on your own, and if you fail the test you won't be able to drive yourself home either without a fully licensed driver supervising you.
If you've booked your driving instructor's car for test day, they will supply the car and meet you at your nominated testing location on the day. This gives you one less detail to worry about on the day, and the assurance that you will definitely have a vehicle on the day.
In fact, a lot of our students have found it beneficial to make use of driving test packages. These packages allow you to warm up and get comfortable with a regular driving lesson before you take your driving test using the same vehicle. With a driving test package, you may be able to arrange driving from your house to the driving test, taking the test, and then returning home again - all with the support and supervision of your driving instructor.
The "roadworthiness" assessment
So you overcome the hurdles of finding a person that has a car, willingness to let you use it, AND happens to be free for the whole day that you're taking your driving test. Fantastic!
Unfortunately they forgot about a few issues that they've been waiting to see the mechanic about, and the testing officer deems the car not to be roadworthy. Now you have to reschedule for another time, this will include further fees.
Many people have one friend or family member with a story like the above, and as road safety standards increase and laws become stricter there are times when even well-meaning people end up getting caught out by changes.
Driving instructors are required to keep up to date knowledge and maintain good condition of their cars, ensuring they are roadworthy at all times. Choosing to book a driving instructor's car can prevent your driving test from coming to an end at the car inspection stage, and give you a smooth start to your driving test.
High quality/modern car
For many learner drivers, another advantage of using driving instructor's car for test day is the superior quality and experience provided by a car belonging to a dedicated driving instructor or driving school.
A driving school or driving instructor's car is their source of business and their tool for training students, and far likelier to be a newer car with superior safety, comfort, and with clear markings that indicate the car is in use for instructional training, other traffic on the road is more likely to be lenient with you.
In addition to being high quality, cars supplied by driving instructors such as those available through EzLicence, are required to meet the highest safety standards as laid out by the Australasian New Car Assessment Program (ANCAP).
Familiarity and comfort with the car
Arguably one of the most important benefits to using driving instructor's car for test day: taking what will (hopefully) be your last driving session as a learner will be much easier with a car that you have used for major development during your learning process.
After several driving lessons with a driving instructor using their car, you will become more comfortable and accustomed to taking professionally instructed driving lessons in it. Students tend to find it becomes less difficult or daunting to perform slow speed manoeuvres such as 3 point turns, reverse parallel parking, and hill starts in the car they learnt them in.
This can give you a bit of a psychological edge during the test, helping to provide a sense that the driving test is little more than a driving lesson with a checklist of graded tasks to complete. That's all that a driving test is in the end - a revision of all the skills you've learnt over the past 6 to 12 months. After all, there's no better car to flawlessly go over it all again than the car that you've been learning and mastering these skills in.
Bonus: Insurance and Registration
There is one extra benefit to using a driving instructor's car for your driving test, although this is more of a precaution than an advantage.
Everyone has that one friend or family member that forgets things, and since the removal of registration stickers on cars, it has become easier for people to forget about vehicle registration completely until they're either pulled over or receive a letter in the mail.
The last thing you want on the day of your driving test is a surprise discovery that the vehicle you were planning to drive isn't actually registered and can't be driven on the road.
A car supplied by a driving instructor or driving school must be registered. All driving instructors and driving schools are also required to ensure their cars are covered by an appropriate level of insurance (for example such as outlined by NSW legislation) which covers driving lessons on public roads where a student is in control of the vehicle.
During the driving test you will still be driving on a road under regular traffic conditions, and if you are involved in an accident while using your own vehicle during the test, you may be liable for any damages.
By using the driving instructor's vehicle, in the unfortunate instance that you do have an accident, at least your driving instructor's vehicle will have insurance coverage for it.
There are a variety of advantages to using driving instructor's car for test day. For better peace of mind, safety, and a guarantee of a smoother driving test experience, you should consider booking your driving instructor's car.
Check out our driving test packages to secure the use of a driving instructor's car and a pre-test warm-up lesson so you can pass first time with comfort and confidence. To check out our range of driving instructor's, enter your suburb into the instructor finder form below and see who is operating in your area.