9 Tips On How To Prepare For Your Driving Test
by EzLicence Last updated 13 Jan 2020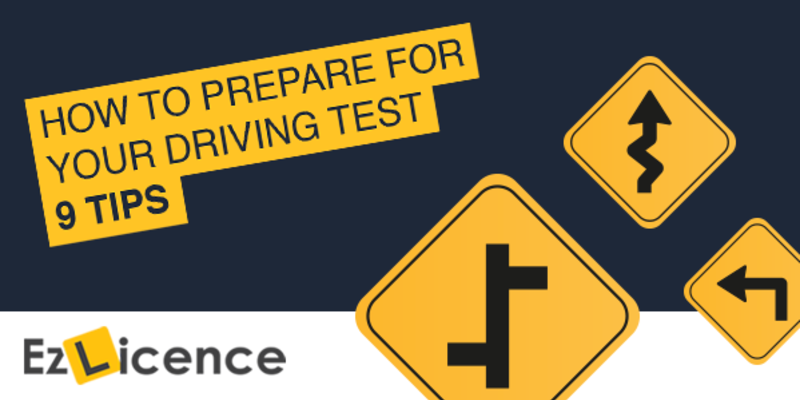 So you've managed to complete your required hours for supervised driving through a combination of parental and driving instructor supervision, and you've logged everything in your book. Now it's time to shift focus toward how to prepare for your driving test.
Alternatively you may already have obtained your licence overseas and now need to pass a driving test to convert your international licence to an Australian licence, in which case you may find yourself wondering how to prepare for the driving test in Australia specifically.
The driving test is often perceived as one of the scariest milestones for learner drivers, alongside the hazard perception test. The test has strict requirements and marking, and you will be required to demonstrate that you are capable of performing several advanced driving manoeuvres as well as driving under regular traffic conditions.
While driving test tips which take place during the driving test itself may be state specific, such as for Victoria or NSW, driving test tips aimed at preparation leading up to the test can be useful for learner drivers all around Australia.
In this blog we're going to cover some provisional driving test tips that will help you prepare for your driving test, regardless of where or why you are taking it.
Read up on your local test so you know what to expect
Before taking the test, you should do some research into what to expect during the driving test in your area. Checking out the website of your local state road authority is a good place to start, as this will provide you with plenty of up to date information on what you should expect to demonstrate during the test at any testing centre.
Be aware that some information available online is only relevant to a local area for that advice, and specific road laws may vary between states. For example some NSW driving test tips may not be helpful to a learner in South Australia or Western Australia, or you may read advice about a specific manoeuvres such as the hook turn (which is only performed in Victoria).
Learn the area surrounding the testing office
Although the exact structure of the driving test is not uniform across Australia, in many states your driving test will begin and end at your local testing office, and should last around 30 to 45 minutes. When you account for the time spent on slow speed manoeuvres that require you to stop your car and prepare, it is fairly likely that your driving test will take place fairly close to the testing centre.
Because of this, it can be helpful to take at least one of your driving lessons in the area surrounding your local testing office so that you are familiar with the environment before you take your driving test.
This can help you mentally in preparing for the test because you will be driving in a familiar area and won't be overwhelmed by trying to learn new terrain under test conditions.
Master the basics
When it comes to that one single thing will give you the greatest chance of success, the answer is very straightforward - putting in more hours of driving practice with a good supervising driving instructor is the most certain way for you to pass your test. The more you use your skills, the more readily you will learn, refine, and commit them to both your muscle and mental memory.
While you do need to demonstrate that you are able to perform several slow speed manoeuvres, it's often the "simple" aspects of driving that catch people out during the test and cause them to fail.
Remember to keep calm and remain focused on every part of the test, or you may find yourself making simple errors on the basics.
Learn the car you'll be using inside and out - literally
As part of your car control knowledge, you may be required to demonstrate knowledge of the location and function of various controls, instruments, and devices located around the car. While you should be proficient and confident with using these by the time you are ready to take your driving test, under pressure it can be easy to have a mental blank and make mistakes and your driving test assessor will likely see this as a sign that you are not quite ready to drive safely on the road without supervision.
Before you take your driving test, it can help to have a checklist of the various instruments and controls in your car to go over and quickly refresh your memory.
Book a good time of day & during good weather
One of the easiest and most effective Victoria and NSW driving test tips is to plan around both traffic and weather conditions. Sydney and Melbourne are notorious for having weather that can be somewhat erratic, as well as for being the largest Australian cities with high volumes of traffic on the roads.
Try to avoid booking your driving test during peak hours for traffic if possible. Times of day with the highest volumes of traffic are typically early morning when people are heading to work and dropping kids at school, and in the afternoon when parents are picking kids up from school or heading home from work. The exact times may vary depending on location, but generally average 8 to 9AM in the morning, in the afternoon around 2.30 to 3.30PM, and then 5PM to around 6PM.
If you can, try to book your driving test on a day with good weather. While you should feel confident driving in any weather conditions by the time you are attempting your driving test, you may find it is easier to focus if you aren't trying to drive distracted by rain and slippery roads.
Organise everything you need for the test before booking it
Prepare all your required documents, and anything else you need to prepare for the driving test a few weeks ahead of time. This can be especially important for international licence holders who want to know how to prepare for the driving test in Australia, but may not be accustomed to the waiting times for official documents.
Make a checklist of all legally required items and documents ahead of time and ensure you have the materials in your possession prior to booking your test. If you need to acquire any official documents (especially from a country overseas) then this may take some time, but you will be expected to provide them on the day of the test.
Depending on your circumstances and reason for taking your driving test, your list may include any of the following:
Any paperwork or documents required for the test
A physical copy of your current learner driver's licence (or international permit)
Any legally required medical notes or certificates supplied by a doctor
Your log book with your completed hours
Or, if you are on an international licence, then both your international driver's permit and original overseas licence
You will also need to supply the car for the test
Relax and get plenty of rest before your driving test
It's important to make sure you are well rested and mentally prepared. If you go into the test feeling stressed, tired, or otherwise distracted, you are more likely to make mistakes during the test which can lead to being failed.
Get a full night of sleep the night before your driving test, and make sure you eat and drink prior to your driving test. You don't want to be distracted by hunger or thirst once the test is underway, and you will perform better.
Arrive early
Be sure to arrive at the testing centre early on the day of your driving test. You are expected to arrive at least 15 minutes early, however it is advisable to arrive a bit earlier to allow yourself a bit of time to relax and get ready.
If you arrive late for your driving test you risk forfeiting your attempt, and you may be required to rebook the test on another day, including paying for any booking fees again.
Book a driving test package
A driving test package allows you to prepare for your driving test with a regular driving lesson, and then use the driving instructor's car for the driving test itself. This can give you several mental benefits to help you ace your test first time since you will be more familiar with learning and practicing in this car, and you won't need to worry about the stress of supplying the vehicle or whether it's roadworthy. You can also ask your driving instructor to go through some warm up practice attempts for particular driving skills before you begin your driving test where you will be using them.
For more in depth information, you can check out the blog we wrote recently where we covered a variety of reasons why you should consider booking your driving instructor's car for your driving test.
A lot of these provisional driving test tips may seem straightforward, but it's easy to overlook or forget things when you're feeling the pressure of an upcoming test. Hopefully you now have a better idea of how to prepare for your driving test so you can increase your chances of passing the first time.
If you are currently preparing for your test, consider booking one of our driving test packages and make your experience easier with a driving lesson to warm up, and the use of your driving instructor's car during the driving test itself.
Enter your postcode into the instructor finder form below to browse and compare the wide range of driving instructors available in your area through EzLicence.