A Guide To Getting Your Licence in Tasmania
by EzLicence Last updated 12 Feb 2022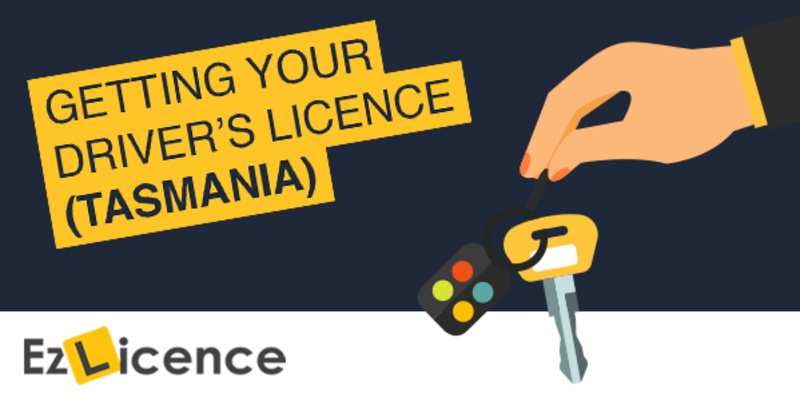 A Guide To Getting Your Licence in Tasmania
So you're just starting out on your driving journey. Congratulations - learning how to drive is one of the most rewarding things you'll experience. Once you pass your driving test and get your provisional licence, you'll enjoy a newfound sense of freedom and independence.
This guide will walk you through everything you need to know in order to gain your provisional licence in Tasmania. We'll start at how to get those L Plates and finish with a few handy tips for passing your practical driving test (the final step). There's plenty of other things to cover off along the way so let's get into it!
Obtaining your Learner's permit
There are two ways to get your Learner Licence in Tasmania:
Complete the "Plates Plus" and Driver Knowledge Test online

Sit the standalone Driver Knowledge Test at a Service Tasmania Shop
The Plates Plus course takes approx. 4 hours to complete. Once you've completed it you'll then unlock the Driver Knowledge Test. The main benefit of this path is that you can complete the Plates Plus course at your own pace, saving your progress as you go along. Also, you don't have to leave the comfort of your own home. You can start the Plates Plus course from the age of 15 years and 11 months.
The standalone Driver Knowledge Test is best for those who have already studied the Tasmanian Road Rules Handbook as it is a simple in-and-out trip into a Service Tasmania Shop to complete the test.
If you are eligible to have your learner licence issued:
you will need to provide evidence of identity

your licence photo and signature will be captured

you will need to complete a form notifying the Registrar of Motor Vehicles of any medical conditions that may affect your driving

you will take an eye test

you need to pay the learner licence fee.
You must be 16 years of age in order to have your learner licence issued.
All Tasmanian learners can get 2 free driving lessons
As part of the Government's KeysDrive scheme, Tasmanian learners are now eligible to receive a second free lesson via the Plates Plus package. For more information click here.
Complete 80 hours of supervised driving (including 15 hours at night)
Unless you're 25 years of age or older you must complete a minimum of 80 hours driving including 15 hours of night time driving. You'll also need to hold your learner's licence for a minimum of 12 months.
There are a few things to remember when completing your hours of driving:
Ensure your L plates are visible from the front and back of your car

Do not exceed 90km/h even if the speed limit is higher

Make sure you carry your licence with you at all times

Do not use your mobile phone, including handsfree

Obey all Tasmanian road rules
Not only is driving with a qualified driving instructor the best way to improve your driving skills you'll also get bonus credit hours. Each hour you do with an instructor equals 2 hours in your logbook. A maximum of 10 hours of lessons will be accepted and recorded as 20 hours driving experience.
Make sure your supervisor driver (e.g. Parent, grandparent etc) has verified your logged hours and signed the statutory declaration found in the middle of the logbook.
Sit the Hazard Perception Test
In many states around Australia, learners must pass a Hazard Perception Test (HPT) before they can progress to their Provisional Licence. The HPT is a computer based test that measures a learner driver's ability to respond to dangerous road situations. Tasmania is planning to introduce this requirement but currently the HPT is still in development so learners who have completed their hours will be able to progress immediately to sitting their Practical Driving Test.
Pass the Practical Assessment Test
Once you've held your Learner Licence for a minimum of 12 months and are at least 17 years of age you'll be able to book a Practical Driving Assessment. This is the last step towards getting your Ps.
There are two ways to book your final assessment:
With a Government Assessor - a government official who works for Transport Tasmania

With an Authorised Assessor - a qualified driving instructor with special permissions to conduct driving tests. Note, you cannot sit the test with an instructor who has previously given you a driving lesson.
Both types of assessment are the same, with a fixed route where an Assessor will sit in the car with you and evaluate your driving ability and hazard identification skills.
Once you have passed the test, your assessor will give you all the paperwork that Service Tasmania requires to upgrade your licence with a fee. This is a huge moment - you'll now be able to drive solo!
Conclusion
That's it - a step by step guide to getting your Provisional Licence in Tasmania. It can seem like a lengthy process but luckily EzLicence is here to simplify things. Our instructors are specialists at guiding you through, ensuring that you learn at a pace that suits you best. The EzLicence results speak for themselves - with high pass rates!
If you already have your Learner's Licence, type in your postcode below to find an instructor near you.