Dima's new driving instruction business generates 35 lessons per week after partnering with EzLicence
by EzLicence Last updated 1 Aug 2022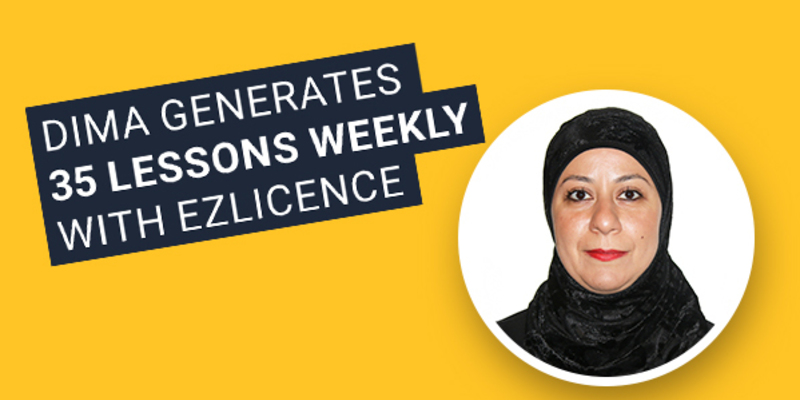 "EzLicence is a big name and I was excited to have the chance to partner with a market leader."
Background
As COVID restrictions began to ease across the country, Dima was keen to try something new. As an accountant who teaches Arabic in her spare time, Dima felt that driving instruction could be a good way to learn new skills and help people at the same time.
After researching the industry, she registered for and completed her Certificate IV through a Registered Training Organisation. And after qualifying for her driving instructor's licence in February 2022 and sourcing her car, she was ready to launch her new business.
Partnering with EzLicence
As Dima was completing her Certificate IV course, she reached out to speak with the EzLicence team about her options once she had qualified as an instructor. We chatted with her about what she wanted to accomplish and discussed her service area and earning potential.
After speaking with the team, Dima decided that partnering with EzLicence would be a great way to launch her new career. Her profile went live on EzLicence in March 2022 and received her first booking the next day.
Dima's calendar was busy straight away and she had a full diary within 1 week of launching her profile.
"I was really happy with how quickly my business took off. I didn't think I'd be as successful as quickly as I have been."
Since her profile went live, EzLicence has continued to fill her calendar, averaging 35 hours of lesson bookings per week.
As a new driving instructor, Dima has been able to successfully launch her business without having to set up any business management software or do any advertising of her own.
"As someone new to being a driving instructor and to running their own business, I didn't have the experience to know how to manage my business alone."
With EzLicence, Dima has been able to efficiently tap into market scale, with new learners coming to her immediately. She has also benefited from the flexibility of our system, which allows her to easily choose what days and times she wants to work, and gives her the flexibility to update her calendar as often as she wants.
Dima is happy with her new career choice and finds that she really enjoys teaching her learners how to drive. "It feels good to help people."
As a new instructor, she loves the opportunity and challenge of improving her skills. With her busy calendar, she becomes more confident every day as she deals with different situations, learners and learning styles. She is constantly trying out new ways of explaining the concepts and intricacies of driving, in a way that resonates with her learners.
What is Dima's favourite thing about EzLicence? "Everything, I'm very happy with you guys."
Are you interested in learning more about a career as a driving instructor? Contact us to chat!