Partnering with EzLicence has given Leeanne consistent and reliable income
by EzLicence Last updated 26 Dec 2021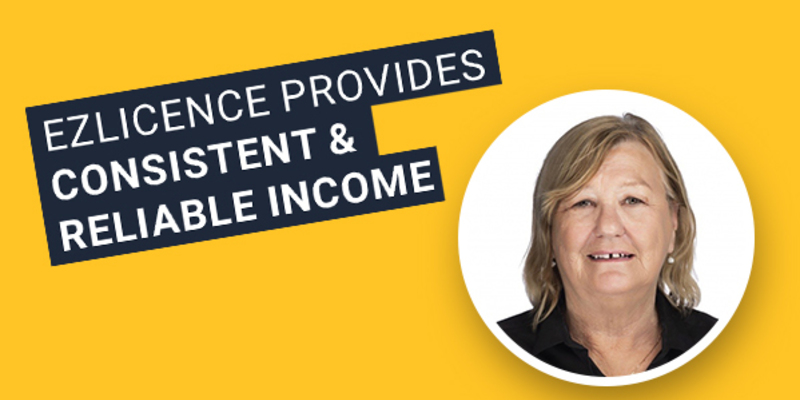 "As soon as I came to EzLicence, the work just came. My business took right off, it was beautiful."
Background
4 years ago, Leeanne's love of teaching and helping people came together when she decided to become a driving instructor.
"The most rewarding part of being a driving instructor is teaching brand new people - I love meeting people who are scared of driving and seeing them become comfortable behind the wheel after an hour."
Leeanne started her driving instruction business like many others do, by subcontracting to another school. By subcontracting, she could get new learners straight away without having to take on potentially expensive advertising costs. But, as is often the case, she found that she wasn't receiving enough regular hours to make driving instruction a viable longer-term option for her.
After subcontracting for a year, Leeanne began researching a solution that would provide her with a more regular income while still allowing her the flexibility to work the hours that suited her schedule. During her research, she came across EzLicence and reached out to us for more information.
Partnering with EzLicence
The team at EzLicence got in touch with Leeanne to get an understanding of her business and business goals. After reviewing Leeanne's service area and existing book of work, we were confident that we could provide her with a consistent flow of bookings.
As with all business change processes, Leeanne was tentative at first and wanted to ensure that she had a full understanding of the platform and how it could impact her business. We took her through our full onboarding process, including a one-on-one webinar where we reviewed the platform functionality in detail. After speaking with the team, Leeanne felt that the EzLicence could help her to achieve her goals and knew that she could try the platform without committing to any ongoing contracts.
The transition to EzLicence was straightforward and seamless. Leeanne came on board in September 2019 and received her first booking the day her profile went live. By the end of October 2019, EzLicence accounted for 40% of her bookings.
"As soon as I came to EzLicence, the work just came. My business took right off, it was beautiful."
Leeanne is a people person and really enjoys teaching different types of learners. With EzLicence, her profile is available to a broad range of learner drivers, from older drivers refreshing their skills to young learners on the road for the first time. She once had the pleasure of instructing an 86 year old woman who hadn't driven for a long time. Leeanne spent time with her to ensure that she was once again confident on the road and could keep her independence.
3 years on from partnering with EzLicence, Leeanne receives approximately 85% of her learner drivers from EzLicence. She has not needed to invest in any forms of advertising, although she has started a Facebook page for her business, which she updates regularly. Alongside her Facebook page, she has also grown strong connections within her local community (such as the cricket club), and she does receive word of mouth referrals, which are simple to accommodate within her calendar on the platform.
"I'm doing a full time job now, before I was just getting sprinkles of it."
At the time of writing, Leeanne has 185 upcoming hours booked into her calendar - for a full time driving instructor, this equates to 4.6 weeks of pre-booked lessons!
Leeanne's weekly calendar with EzLicence bookings in yellow.
Leeanne appreciates the benefits of EzLicence in her day to day life. After spending the day teaching, she no longer has to take time out of her evenings to do admin. She doesn't have to deal with cash or payments, scheduling or bookings - she just checks the platform every day and the work is there.
"I just come home, walk in the door, and put on dinner. The whole system is so professional - it's just nice and easy."
Leeanne loves that EzLicence gives her the peace of mind to do the things she enjoys, like travelling. She previously took time off to go on a cruise and when she came back, she was able to get straight back to work - while she'd been away, EzLicence had filled the available slots in her post-holiday calendar.
"EzLicence takes the worry out of my hands - I can take a holiday and know that when I get back the work will be there, I don't have to chase it."
Leeanne is really happy with how her business is progressing - she receives consistent income, the flexibility to make her own schedule, and the ease of an automated system to manage bookings and payments. And now that COVID restrictions are easing, she's keen to do some overseas travel again, knowing that her calendar will be filling up for her when she returns home.
If you're an existing driving instructor, contact us to learn more about the benefits of partnering with EzLicence.
And if you're interested in learning more about a career as a driving instructor, contact us to chat!