Don't Fail the Learner Permit Knowledge Test! (VIC)
by EzLicence Last updated 17 May 2019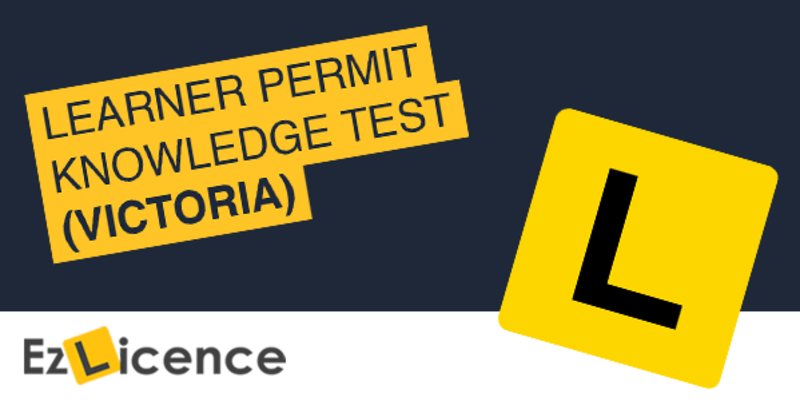 The learner permit test is the first step on the driver's licensing journey in Victoria. None of us want to fail but unfortunately many people do.
The pass rate for the learner permit knowledge test is around 65% across Victoria, meaning almost 2 in 5 people that sit the test will fail on any given day. That's a lot of disappointed people and a lot of wasted time & money.
So how can you avoid failing the learners test?
In this blog we'll explain what the test is, how it works, and how you can pass it on the first attempt.
Your learner permit knowledge test
Passing the learner permit knowledge test is one of the most important milestones on the journey of learning to drive, and you cannot begin driving a vehicle until you pass this test. Once you have passed it, however, you are free to begin learning to drive under supervision at your own pace, and for most people this means learning to drive over the next 12 months before attempting the next milestone: the driving test. For more information on that, read our blog on the number one reason people fail the driving test.
The Victorian learner permit test is a theory test that takes around 15 - 30 minutes and consists of 32 questions. Questions used in the test are randomised and based on information available in the Road to Solo Driving handbook. You must get at least 25 questions correct (78%) to pass and achieve your learner permit.
As part of attempting the learner permit test, you are also required to have your eyesight tested which takes about 5 minutes to complete.
What does failing the learners test mean?
Apart from embarrassment, failing the learner permit test means you have wasted your time and money. You will have paid $42.50 for the privilege of sitting the test, and you will not get this money back. You may have spent quite some time preparing for the test and you will have taken time out of your day to travel to the testing location and sit the test, and now you will have to do this all over again.
Failing the test prevents you from beginning to learn to drive, and depending on your circumstances this could have longer term implications for employment and education opportunities, and even your social life.
The reasons people fail the learner permit test
The reason most people fail the learner permit test is simple. They do not give the test the respect it deserves and they fail to prepare properly. You cannot expect to show up and pass the learner permit test unprepared, but with so many resources available online to help you prepare (including our own free practice learner permit test), you can easily find the information and tools to give you the best chance of passing.
How you can pass the learners test first time?
So how do you prepare properly and pass the learner permit knowledge test first time? You are actually given all the tools required to pass the learner permit test, you really don't need to look far. We recommend that you do the following three things to make sure you pass first time:
Obtain a 'Road to Solo Driving' handbook. The 'Road to Solo Driving' handbook provides practical information on Victorian road rules as well as road safety, low risk driving, vehicle registration, and penalties for driving offences. We recommend that you read this entire handbook and complete the practice questions. Reading the handbook will give you a great general knowledge of the road rules and on it's own will go a long way to helping you pass the learner permit test.
After building your road rules knowledge and reviewing the breadth of learner permit test questions you may be asked, it's time to complete some practice learner permit knowledge tests. You should simply keep practicing until you can consistently pass the test. EzLicence provides comprehensive practice learner permit tests, our questions are taken from the real learner permit test question bank and delivered in the same format as the real test. You can try the test as many times as you like and each time you attempt a practice session, the questions will be randomised just like in the real test to ensure you are properly prepared.
Get plenty of sleep the night before your test, eat and drink something beforehand, and make sure you go into the test relaxed. It's easy to make mistakes when you're tired, hungry, or stressed, and how you feel going into the test on the day can significantly impact how well you do. The last thing you want to do is sabotage yourself by staying up late and then getting a few too many questions wrong because you didn't understand them properly due to a lack of sleep, or because you were distracted thinking about food.
Passing the learner permit knowledge test is actually not that hard if you put the effort in and follow these simple steps. Everything you need is available to you and you can simply keep doing practice tests until you are certain you are ready, thus saving wasted time, effort and money.