11 Advantages of Booking Driving Lessons Online
by EzLicence Last updated 26 Jun 2019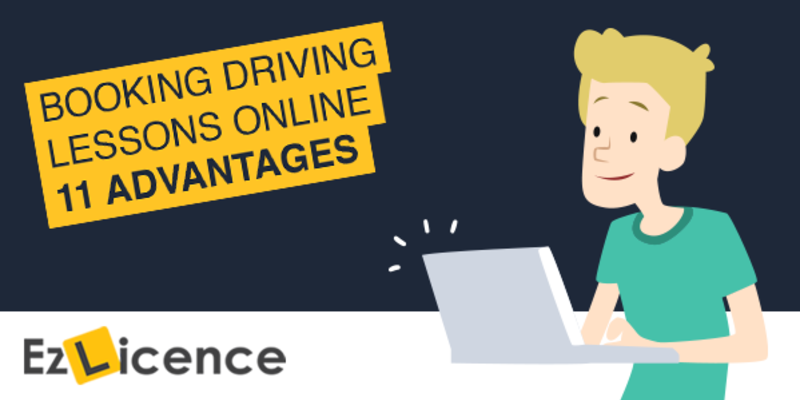 Life is busy, and the 9 - 5 rush doesn't always give us time to do everything that we'd like to get done during the day since many businesses close at 5 or 5.30 PM. If a shop or a service isn't accessible online, then they're doing a disservice to both themselves and their customers.
We'll take a look at some reasons why driving schools in 2019 should let you book driving lessons online, and why it can be a much better decision to book your driving lessons online rather than over the phone or even by email.
In this article we'll cover the greatest advantages of having an online driving lesson booking and management system, as well as providing a few suggestions on what to avoid.
From general transparency, efficiency and accessibility, to increased quality of customer service and buyer protection, there are many advantages to having an online platform for buying and selling goods or services.
The advantages of booking driving lessons online are summed up as follows:
Click any of the links in the list to jump to that section.
So let's take an in depth look at our 11 advantages of booking driving lessons online!

Book driving lessons at any time of the day or night
Most businesses operate between 9AM - 5PM. That often makes it hard to find the time to make a call and book an appointment. Additionally, driving instructors are in lessons all day long and often can't return calls until later.
Who really wants to spend their lunch break at work booking appointments, and who wants to wait for a call back?
An online booking service allows you the freedom to book and schedule your lessons at any time, and from anywhere. If you have an inconvenient schedule and find yourself unable to contact businesses when they're open, having the ability to make your purchase online can easily become one of the main factors you consider when choosing where you buy your products or services.
Review driving instructor profiles - make an informed choice
Traditionally when you book a lesson, you're given a driver from a school's total pool of drivers based on the availability of both you and the driving instructor, without any idea about who you're agreeing to learn from ahead of time.
A quality online booking system gives you the flexibility to view potential driving instructors ahead of time and then make your own informed choice. You should be access an able to read an instructor's profile and see their bio, driver training experience, if they speak your preferred language, any qualifications and accreditations they have, and any additional factors such as bonus log book hours.
Driving instructor selection flexibility
Often when you book lessons through a driving school, you'll be allocated & locked into doing all your lessons with a particular driving instructor for the duration of your learning journey. This means you could end stuck with an instructor that just isn't right for you.
You may find on your first lesson that your chosen driving instructor isn't the right match for you, or you may move to a new suburb and find it difficult to keep going with your current instructor.
Having the flexibility to change your instructor at any time and find the right one that suits your learning style (or change of location) will help make your learning experience more enjoyable and far more effective. An online booking service allows you to book driving lessons with any driving instructor in your area, allowing you to switch at any time.
No waiting for a call back from a driving instructor
Booking a driving instructor over the phone can be frustrating, time consuming & involve multiple calls. Even if you call the right number and reach the business, the instructor could be busy, or you may get an answering machine.
If the driving instructors are taking the calls themselves, that adds a whole other problem. An instructor that does take calls themselves either has to get back to you at inconvenient times once they're finished teaching, or worse - they'll take calls while they're actually giving driving lessons.
Nobody likes receiving phone calls late at night, and nobody wants the quality of their lesson compromised because their driving instructor has to stop and take another lesson booking while they're meant to be instructing.
View driving instructor reviews and ratings from other learners
Whether you're eating at a restaurant, buying a new product, or booking a trip somewhere, most people will consider reviews provided by other customers when making a purchasing decision. Driving lessons are no different, and we believe you should be able to see what other people think of a driving instructor before you commit your time and money to learning with them.
When booking your driving lessons online, a good driving school will allow you to see reviews of its driving instructors to help you make an informed decision, and will use reviews and feedback from previous learner drivers to make changes that improve the quality of training and service provided by their driving instructors.
View the driving instructors availability & service area
Traditional driving schools will try to get you to fit their schedule & the lack of a modern online booking portal means many lessons will try to be rescheduled by the school too.
You are the customer & you should have complete control on when your lessons occur. You should also be able to reschedule lessons within a reasonable time frame. A modern online booking service will allow you to schedule your own lessons from each driving instructor real-time availability. The service should provide you the ability to reschedule lessons online.
Driving schools will often list the suburbs or regions they service, but a visual representation always helps, especially if you live in an area with suburbs that don't seem to be clearly defined. Being able to see which driving instructors operate in a particular area can help you plan your driving lessons much easier and quicker.
Many learner drivers combine their driving lesson with a necessary trip, such as driving from home to work (or school), or vice-versa. It's great to know ahead of time whether your preferred driving instructor can actually accommodate your chosen pick up and drop off locations, or whether it's outside of their designated zones.
View details about the vehicle you'll be learning in
Driving can be a very liberating and enjoyable experience for many people, but you are ultimately driving a large and highly complex machine around, and that has inherent risks associated with it. They come in different models that handle differently, have different features, provide different levels of safety, as well as a wide variety of other aspects that can influence your driving experience and capability.
That's why it can be incredibly helpful to know ahead of time what you're going to be driving. When you purchase a car, you choose something that meets your needs - you find it comfortable, it handles a certain way, provides certain features, and it's probably likely that you'll want to learn to drive in the same kind of car you plan to (or already do) own. Learning the car should be exactly the same - you should be able to make an informed choice and learn in a car that you feel comfortable driving.
Being able to review and choose a driving instructor based on the type or model of car they use can be a serious boost to your experience while learning to drive, and it can help you avoid the nerves of learning the layout of a new vehicle.
Quicker than traditional lesson booking methods
Calling by phone still requires you to make a call which, if answered, then takes takes several minutes of discussion with another person before your lesson is booked, and you will often find your preferred times are unavailable - so you need to make more calls.
With online booking systems you can book your driving lessons in under 60 seconds without any hassle, saving your time, your sanity, and giving you more control over managing your bookings.
An online booking platform also lets you make your lesson booking and take your driving lesson on the same day, perfect for those with a busy or unpredictable schedule.
Your purchase has flexibility and retains its value
When you purchase driving lessons from a traditional driving school, you normally have to use them when and where you purchased them or else you risk forfeiting them. With an online platform such as the one provided by EzLicence, when you buy driving lessons you are able to redeem them at a later date if you find yourself unable to use the driving lesson when and where you planned. You are able to reschedule your bookings right up to 5 hrs prior to the lesson. You can even rebook with different instructors and in different areas.
Driving lessons purchased through EzLicence for instance hold their value over time, and are valid for use up to 3 years after the date of purchase. If you find you're unable to make use of your driving lessons now, you don't need to worry about losing value on the money you've already spent.
Avoid confusion or misunderstanding
If you do manage to get a person on the phone line, you still have to worry about the quality of the phone call. Can you and the other person on the line hear each other clearly? And can you be sure they recorded your details properly (e.g. phone number, lesson date/time, pickup address)?
How many times have you written down the wrong phone number or made a calendar entry at the wrong time or date?
Booking your own lesson online means you have control over the data that goes into the system - you don't have to worry about if you're a Jesse that's somehow been booked in as a Chelsea, or whether the other person heard "one" or "nine" in your home address or phone number.
Access supporting resources
Driving is like any other skill and the more information you have available to you, the easier it is to learn and become comfortable with.
The best driving school provides a website that serves as a one-stop shop for all resources related to getting a driver's licence, including in-depth articles, free practice learner theory tests, and more.
Information should be easily available to help you on your journey right from the moment you decide you're going to sit your learner test, throughout your time as a learner, up to the final driving test required to graduate to your P1 licence, and then beyond.
Whether you want an easier, more informative, more flexible, or more accurate booking process, there are a variety of great reasons that buying your driving lessons online can be the smarter choice.
EzLicence offers the greatest range of driving instructors in Australia, available in Melbourne and Sydney. If you're a learner driver looking to book driving lessons, enter your details into the search tool below and find profiles for driving instructors in your local area.
Make your booking today in under 60 seconds, and learn easy with EzLicence.