Everything You Need to Know About Your First Driving Lesson
by EzLicence Last updated 22 Jul 2020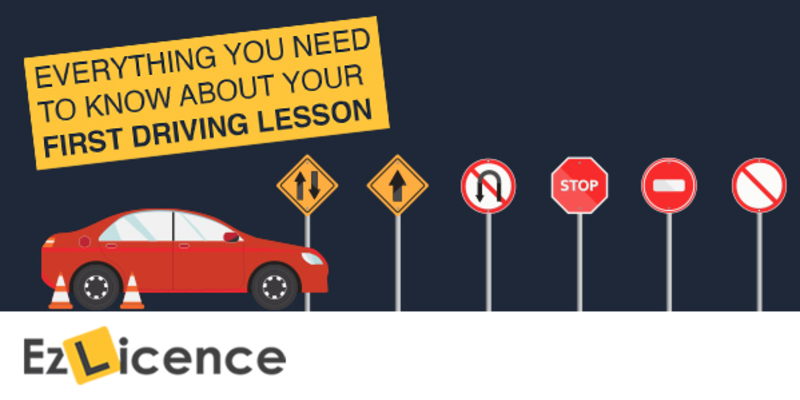 For many learner drivers, the prospect of learning to drive produces mixed feelings. There will often be some excitement about the opportunity to gain a bit more independence, but also anxiety or nerves about what to expect during the first driving lesson.
Being well prepared will help you to overcome any fears you may have, and will ensure you get the most out of your first driving lesson.
While Australia's road rules and licensing requirements may vary by state, all driving instructors are required to help you learn the same skills. Your early driving lessons will often follow a similar structure, from the moment you're picked up to the moment you're dropped off.
In this article we're going to talk about driving lessons for first time drivers, and give you a run-down on what you can expect.
Let's take a look at the things to know before your first driving lesson!
The things you'll need
Before you get in the car for your first driving lesson, you you will need:
Your current learner driver's licence
Your log book
Any prescription glasses that you are required to wear
A time slot booked with a fully accredited driving instructor
A good understanding of the road rules in your state or territory
Comfortable clothes that don't restrict your movement
Optional: It can be a good idea to have sunglasses and water available
By law you are not permitted to drive if you have taken medication that inhibits your ability to drive, or if you have any alcohol or drugs in your system.
If for some reason you need to take medication that could impair your ability to drive, you should reschedule your driving lesson to a more suitable time. EzLicence allows you to change your driving lesson booking online (at no cost) as long as you provide at least 5 hours of notice before your lesson is scheduled to take place.
The layout of the car
Driving lessons for first time drivers generally begin with the same goal - learning how to operate the car at a basic level. As a new learner driver, you must learn to correctly identify and safely use all of the main vehicle controls, dashboard instruments, and other features of a car designed to help you drive safely.
It almost goes without saying that the layout of your driving instructor's car is one of the best things to know before your first driving lesson if you want to give yourself an easy head start. You don't even need to get in the car or meet your driving instructor to start learning it!
While it may sound boring, knowing where a particular control is and knowing how to use it quickly while driving could be the difference between staying safe or having an avoidable accident. For example you will need to be able to quickly turn on the windshield wipers during a surprise shower of rain, or turn on the demisters when your car windows fog up on a cold day.
While all cars are required to have the same essential controls, instruments, and features, some newer cars may have additional controls. These days most cars have some fairly similar designs, but you may find the position or implementation varying between models.
To help you prepare, when you book a driving instructor through EzLicence you are able to see what type of car they use for driving lessons. Knowing what model of car you should expect to be driving means you can look up the interior/dashboard layout for it ahead of time, so you can go into your first driving lesson a bit more prepared.
The start of your driving lesson
When booking your driving lesson, you will have the opportunity to choose the location and time for your driving instructor to pick you up.
As long as the pickup and drop off locations are not too far apart, matching your lessons to a work, education, or sporting commitment can provide good motivation, and can ease any nerves about the unknown by giving you a specific destination that you are driving towards.
Popular pickup and drop-off locations include:
Home
Nearby shops
School (or other education)
Workplace
If something comes up on the day and you need to change the pickup location or time of your driving lesson, then don't panic. With EzLicence you can make adjustments to your booking up to 5 hours ahead of the driving lesson without any additional fees or penalties.
The driving portion of your lesson
If you book a standard driving lesson, your lesson will go for around an hour from the moment you're picked up to the moment to the moment you're dropped off.
For your first driving lesson, your driving instructor will likely spend some time taking you through a layout of the car to be sure you know where everything is and how to use the various dashboard controls properly. It can also help to take some time going over the plan for your first driving lesson with your driving instructor.
For a completely novice driver who is getting behind the wheel for the first time, the first real time you drive will typically be very basic and intended to help you safely get a feel for controlling the car.
For example, your driving instructor will take you through the basics of starting your car, pulling away from the curb, then driving a short distance along a quiet road (or two) before pulling over and parking the car again.
Don't worry, you will probably not be doing three point turns and reverse parallel parking - your instructor doesn't even know if you can drive in a straight line yet.
Depending on your location and the time of day, you will likely find yourself driving around an empty car park or a quiet backstreet well away from traffic.
Don't be afraid of making mistakes on your first lesson. If you manage to avoid making any then that's fantastic, however mistakes are a part of learning and you are bound to make some while learning. Your driving instructors are not expecting you to be perfect, and all driving instructor vehicles are equipped with dual control pedals for safety - your instructor will be able to literally stop you from driving if you are about to make a dangerous error.
The end of your driving lesson
When choosing your drop-off location, you should account for some time during your first driving lesson to be spent on becoming familiar with the car interior and going over your lesson plan.
If possible before the driving lesson is finished, it's a good idea to take a few moments with your driving instructor to reflect on the tasks and skills that you have learnt and practiced during your lesson.
Make good use of your driving instructor's professional experience by asking for guidance on what to practice before your next lesson, and create a structured plan together for your future driving lessons that will help you develop skills in a particular order.
By doing this, you can use driving sessions with a parent or other supervising instructor to focus on developing particular skills and techniques required for more advanced driving techniques, so you can develop a strong base with good habits.
Once the lesson is done, hopefully you will be able to congratulate yourself on a job well done! If you made a few mistakes though, don't let it get you down - you've just identified a few areas to work on improving first.
To quickly recap: remember to bring all your required material (especially your learner driver's licence and log book), get plenty of sleep, and don't stress! You'll probably be spending part of your first lesson learning the layout of the car and then doing some very basic driving. If you do drive, it will probably be in a quiet backstreet or car park, and your instructor will be supporting you the entire time.
No matter how your first lesson goes, getting behind the wheel for your first driving lesson is a huge step toward learning to drive and you will have accomplished a huge milestone. It will get easier from here as you gain experience and confidence.
To find a driving instructor for your first driving lesson, simply enter your postcode into the instructor finder form below to browse the range of driving instructors available in your local area. Learning to drive is easier with EzLicence.