The Ultimate P1 Licence Guide for QLD Learner Drivers
by EzLicence Last updated 28 Jan 2020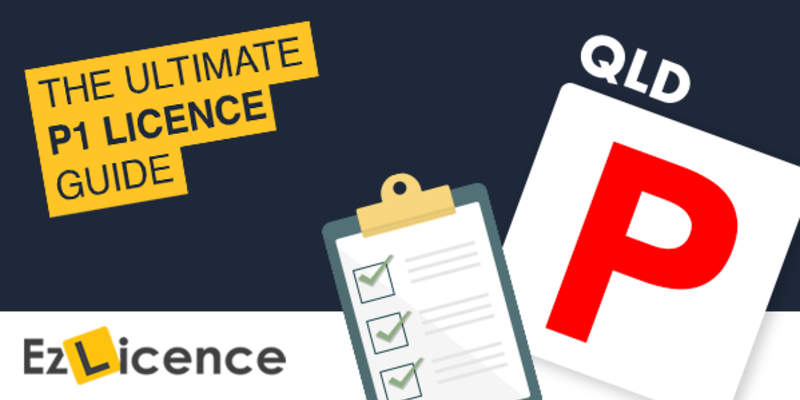 So you've decided that you want to obtain a Queensland P1 licence and enjoy the freedom and independence that driving can give you. Well you've come to the right place to get started on your learning journey!
This ultimate guide will tell you absolutely everything you need to know before being able to obtain your P1 licence, including advice on the final practical driving test itself. Whether it's knowing how many hours you need to have logged before taking your test, or what you need to provide to prove your identity, this article has you covered.
So without further ado, let's get started with the requirements for obtaining a P1 licence.
Minimum Age
Although you can start learning to drive from the age of 16, you cannot obtain a P1 licence until you are at least 17 years of age.
If you are in a hurry to pass your test it is wise to apply for a learner licence as soon as you turn 16 because you will have to hold that licence for at least 12 months before being able to take a P1 licence driving test. This does not apply to people over the age of 25.
Obtain and Hold a Learner Licence for at Least 12 Months
As mentioned above, learner drivers cannot apply to take the P1 licence test until they have held a learner licence for at least 12 months, unless you are over the age of 25.
In order to gain a QLD Learner licence, you will need to take the Queensland Road Rules Test. The QLD Road Rules Test is a computer-based road rules knowledge test which comprises of two parts.
Part 1 is 10 questions about giving way and part 2 is made up of 20 questions about road rules and licence requirements. In order to pass you need to get 9 of the 10 giving way questions right. For part 2 on road rules and licence requirements, you will need to get at least 18 of the 20 right.
With such strict requirements for passing this test it's a good idea to get some practice in before taking it. Here at EzLicence we have a great FREE online Road Rules Test for you to practice, as well as access to many questions direct from the Department of Transport and Main Roads question bank. Make sure to have a go and test your current knowledge.
Log at Least 100 Hours in Your Learner Driver Log Book (Including 10 Hours of Night Driving)
Unless you are aged 25 or older you will need to log at 100 hours of driving over a minimum period of 12 months, including at least 10 hours of driving at night time. You will then present this log book before taking your driving test.
If you log these hours using a digital log book app then you must submit your driving details direct to the Department of Transport and Main Roads before taking your test.
In terms of building up your hours, whilst you should practice as much as possible with a suitable parent, family member or friend, you will need driving lessons with a qualified professional driving instructor. Instructors won't just teach you the basics and safest driving skills, they also know the areas that your local driving test centre uses, which is helpful information.
In terms of how many lessons you should take, it's better to look at how many lessons it takes you to become a capable, safe and confident driver, rather than how many it takes to pass your test. Your driving instructor can also guide you, they will know when you are ready to sit your driving test.
It is worth mentioning that driving test pass rates do dramatically increase with the help of an instructor. Those that take driving lessons with an EzLicence approved driving instructors have a pass rate of 90% as opposed to the state-wide average of around 60%. But the advantages of having instructor led lessons don't stop there, have a read of our blog post on the benefits of driving lessons with a driving instructor.
Once you feel ready to take lessons make sure to use our instructor locator and use our guide on picking the right instructor for you to find a good match. Once you have found a driving instructor you are happy with and you are ready to take driving lessons, fill out the price finder form and book your driving lessons in advance online.
Prove Your Identity
The rules on what counts as proof of identity for your driving test are quite strict. You must provide either a QLD photo driver/rider licence or Photo Card that is current, or has expired within the last two years (provided it's not recorded as lost, stolen or destroyed).
Failing that you must provide at least two documents from two pre-approved lists (one from each list), the full lists of acceptable documents can be found here.
No matter what you choose for your proof or identity there are a couple of vital aspects to remember. Firstly, in all cases, your identity documents must be originals. Copies and certified copies are not acceptable. Secondly, your proof of identity documents have to show your signature.
If they don't show your signature, you can review your options here.
Pay the Licence and Test Fees
Before you take your driving test and obtain your P1 Licence you will need to pay the necessary associated fees. There are many different elements to the fees you will need to pay from the start of the learning phase right through to passing your driving test and getting your full P1 Licence photo card.
A list of what you will be expected to pay for is below:
Licence Fee
Handbook and Logbook Fees
Road Rules Test Fee
Driving Test Fee
There are also fees for replacements for any of the above, as well as fees for repeated tests. For a full list with up to date pricing see the Department of Main Roads and Transport Price List.
Pass the Driving Test
Once you have completed all of the necessary requirements above and you feel ready and confident behind the wheel, it's time to take the practical driving test.
Once you have booked your slot and paid your fees you will need to report to the test centre with the necessary documentation and bring someone with you who holds a full P1 Licence as you will not be able to drive home alone if you fail. You will need to bring a currently registered and roadworthy standard test vehicle with correctly displayed L-plates. Also make sure to arrive with plenty of time, and take the time to practice driving beforehand as this greatly increases your chance of passing.
EzLicence offer a special Driving Test Package which makes sure you have the best possible preparation for the test. It includes being picked up 1 hour before the test, 45-minute pre-test warm up (including manoeuvre practice), the use of the instructor's vehicle for the test, and drop off after the test result has been received.
Driving lesson
pricing & packages
Buy more lessons & get more discount
Still not sure whether you are ready or not? Make sure to read our helpful test day guide, including the number 1 reason why people fail their driving test.
Conclusion
There you have it, that's everything you need to obtain your QLD P1 Licence in one handy post. Whilst this may seem quite exhaustive, it's a process that can be made much simpler using EzLicence, as our instructors can guide you through every step of the learning to drive process.
There is a reason why our pass rates are so high!
When you feel ready to start your driving lessons, make sure to find your nearest instructor here.