1 hr = 3 hrs: How to get bonus log book hours (NSW)
by EzLicence Last updated 6 Aug 2018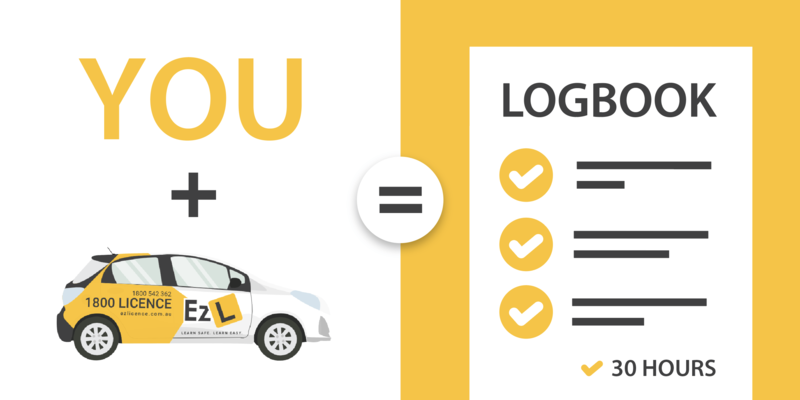 Getting a driver's licence is a key milestone in a young person's life. Unfortunately, the process from first sitting the Driver Knowledge Test (DKT) through to obtaining your P1 licence takes significant time, effort and support from family and/or friends. One of the most significant challenges in the NSW licensing regime is meeting the minimum logbook hours requirements. This is where you must gain and record a significant amount of driving experience behind the steering wheel before being able to attempt the driving test.
What is the logbook requirement in NSW?
Your learner driver log book is for you and your supervising driver to record your driving experience.
In New South Wales, if you are under the age of 25 you must log at least 120 hours of supervised driving, including a minimum of 20 hours of night driving, before you can attempt the driving test.
120 hours of supervised driving is no small undertaking, for most people this is going to take many months and you are going to need plenty of support from friends and family. If you drive on average for only 1 hr, you will require as many as 120 separate driving sessions.
A little known hack.....
Here at EzLicence, we get many enquiries about the logbook requirements however we find that very few learners know about the scheme in New South Wales that allows them to receive up to 20 bonus log book hours if they learn with a driving instructor. All of our driving instructors are able to support this scheme.
For every 1 hour structured driving lesson you complete with a licensed NSW driving instructor, you can record 3 hours driving experience in your log book. A maximum of 10 hours of lessons will be accepted and recorded as 30 hours driving experience.
This doesn't mean that you should stop having lessons once you reach the 10 hour limit, especially if you feel you'd benefit from more lessons.
Driving lessons at night (between sunset and sunrise) count for only 1 hour of night driving.
Professional driving lessons
So simply scheduling 10 hours of driving lessons with a driving instructor will give you 30 hours of driving time in your logbook. This will get you off to a great start and ready to start driving with friends and family. Alternatively, it could be an accelerated method of getting your final 30 hrs in your logbook and a great way of preparing to pass your driving test.
EzLicence offers 10% off a 10 pack of driving lessons, meaning that you will receive your 10th lesson FREE. You can review the pricing in your area by entering your suburb into the search tool below.
Driving lesson
pricing & packages
Buy more lessons & get more discount
The benefits of driving lessons
So we've learnt that 10 hrs of professional driving lessons will give you 30 hrs in your logbook. Getting 10 hours of driving lessons will not just accelerate your progress towards P1 licence, it will also have some added benefits........
Professional driving lessons will teach you correct and safe driving techniques. You friends & family can provide great support as you build your driving experience. However the chances are it has been a long time since they passed their driving test and bad habits will have crept in. In our blog, 'Should I get driving lessons' we discuss the role of a driving instructor, the potential cost of driving lessons and how to find a good instructor.
There are also the driving test pass rates to consider. Would you believe that only 58% of driving tests attempted in NSW in 2017 resulted in a pass? Professional driving lessons may actually save you time & money.
If you are considering getting some driving lessons, why not try EzLicence? Simply enter your pickup suburb and preferred transmission type into the search tool below. You can then review the profiles of the available driving instructors in your area and then book your lessons online in real time. When you buy a 10 pack of lessons you receive 10% off the total price, meaning that the 10th lesson is FREE.