Think Safe, Drive Safe
by EzLicence Last updated 23 Feb 2022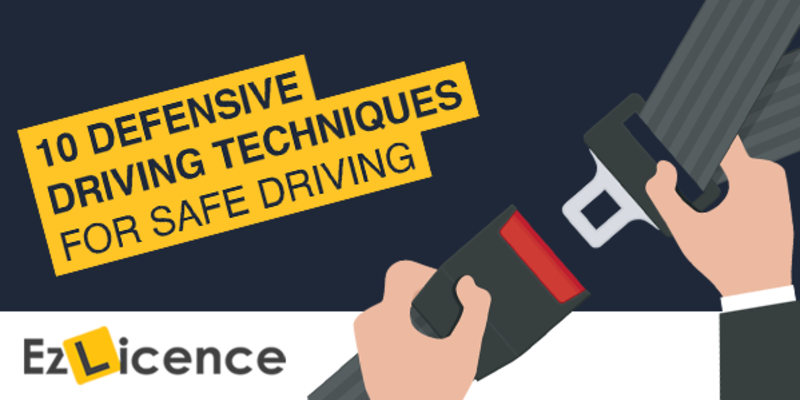 10 Defensive Driving Techniques for Safe Driving
In the rush of daily life, defensive driving techniques are not our first thought as we hop in our cars to begin the school run or work commute.
Safe driving is a concept understood for good reasons, but rarely mindfully considered.
Introduced to us from the moment we learn to operate a car, once comfortable, our defensive driving techniques tend to slide. While Australian road fatalities have declined since 1970, they are still high by international standards.
Mindful driving is a new concept to combat road carnage. Simply put, mindful driving is the practice of being aware, present and patient while you drive. So we've put together 10 defensive driving tips for thinking safe and driving safe.
Safety First
While it's non-negotiable, the number of people who fail to put on their seat belt is statistically high. Quick trips are no excuse, buckle up on every ride. Adjusting side mirrors, seat proximity to the steering wheel and making sure you can see clearly out the windows creates a safe driving environment from the get go.
Start Earlier
Running late has a knock on effect on your entire day. Not only are you hurrying and feeling rushed, your stress levels increase and your focus decreases. Suddenly, you're making mistakes and using poor judgement out of irritation and pressure. Aim to leave 10-15minutes earlier for any trip, even your daily commute, to avoid rash behaviour and potential accidents from lack of focus.
Share the Road
Nobody likes a road hog, purely for manners' sake. But when you decide the road is your own and make choices with this attitude, chances are you'll attract trouble. A handy defensive driving safety tip to stay calm and be courteous, this increases safety and spreads good vibes for you and those around you.
Stay Focussed
Not only will it cost you in fines if you're caught, but using your phone while driving is high risk activity. Best practice is to switch it to silent mode or Do Not Disturb. A distracted driver drops their stopping time by half if not alert to traffic changes. Children needing attention are best managed by pulling over. Let's not forget to set and forget music with a favourite radio station or playlist. Good defensive driving techniques don't include messing with buttons while driving.
Don't be Complacent
It's easy to get complacent once you've learnt how to handle a vehicle. Posture can slip, you're leaning on your window, holding a coffee cup, or worse, eating a burger and steering with your knees.
Signalling
Signalling is essentially communicating and high on the defensive driving safety tip list. Keeping up good comms with other drivers is a must. Letting others know when you're turning, merging lanes and needing to brake helps everyone to know their role on the road.
Stay Ahead of the Game
Get in the habit of looking ahead, and 'thinking' for other drivers to pre-empt the flow of traffic. This is a defensive driving safety tip that takes practice. Checking ahead for stop lights, staying aware of cars to your left and right and being conscious of tailgaters gives you the foresight to allow for stop times, abrupt lane changes and erratic driving.
Signs
Signs are the way we communicate rules and regulations, so if you choose to ignore them, you're effectively deciding to ignore the rules. Signs help predict activity of pedestrians, road conditions and other hazards, particularly if you are unfamiliar with the route. Your best defensive driving tips start with road signs, so stay on the lookout.
Stay Sober
Last on the list, but most important, substance free driving is the best defensive driving technique you can heed. If you're out celebrating and have a couple of beverages, you'll need to decide whether to drive or not, our previous blog has some handy tips.
Like any practice, defensive driving techniques take time to master mindfully. With these tips and your willingness to give it your best each time you start the car, you're one step closer to being a courteous driver who thinks safe and drives safe.
Over to you. If you enjoyed this read, share it with your mates
Driving lesson
pricing & packages
Buy more lessons & get more discount