6 Common Driving Test Mistakes You Don't Want To Make
by EzLicence Last updated 9 Nov 2020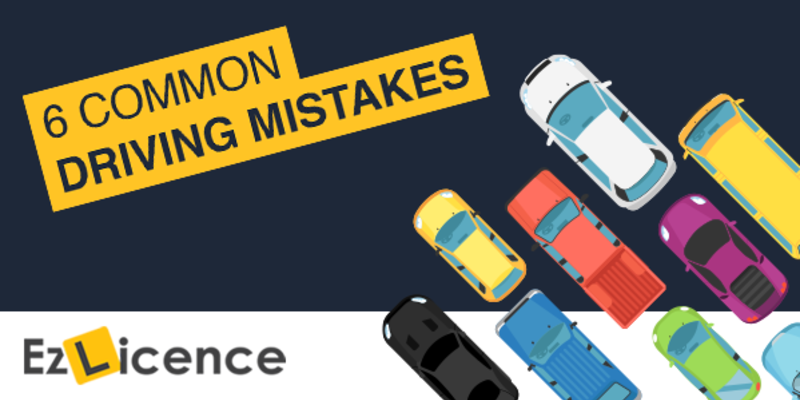 How to walk away with a pass the first time
Taking your driver's test for the first time is a pivotal moment in your life. It's the gateway to your freedom, independence, and a giant leap into adulting.
The latest stats from June 2020 released by the NSW RMS show the pass rate for the NSW driving test was 59.3%. Making common driving test mistakes mean over 40% failed the first time - that's a lot!
Getting the pre-test jitters is a given. It's understandable you want to avoid driving test mistakes. You want to pass the first time. Your mates and family all know about it - no one wants to fess up to a failed result. Re-sitting it again is time and cost you don't want to waste. And driving is an enormous responsibility. Your driver's licence may be that key to you landing your dream job. These are all normal thoughts, feelings and expectations you will have when you finally book in for your test
Meeting your state's requirements
Every state in Australia has different criteria to meet in the lead up to taking your driving test. You may need to sit a Hazard Perception Test, log a certain amount of hours on the road, be a certain age, you may have a pre-drive check… and the variables go on. It's important to know your state's rules and regulations as they can change regularly. Failing to meet your state's requirements can mean you won't get to sit your driving test.
Check your headspace
Like any new task, big learning or pressure test, your mindset will lead you on your highway of success. Sometimes driving test mistakes can happen if you are overly nervous or under prepared. These simple factors can cost you big points.
If you're feeling nervous, recognise that it's normal to feel this way. Feeling rested, unrushed and a clear mind is key. Meditate, talk to a friend, listen to music, go for a walk… whatever works for you, make some time beforehand to do it.
Feeling under prepared is another contributor easily remedied. EzLicence driving lessons are simple to book affordable in price and offer a range of instructors local to you. You can even use their car if you don't have your own - nothing is stopping you from logging those hours on the road.
There is also the option to book a driving test package, where you get 45 minutes practice before you take the test. Squeezing in that final refresher before sitting the big test guarantees you an advantage. And confidence boost!
Critical and Non Critical Criteria
The assessment criteria your testing officer will observe fall into driving skills, behaviours, risk assessment, knowledge and judgement.
There are critical and non-critical components. If you receive just one critical mark, you will fail the test. You have a little more leeway with non-critical, but don't be complacent! Make sure you know how many non-critical marks you can receive before it becomes a fail.
The 6 Most Common Driving Test Mistakes
So you're in a good headspace, you've spent hours practising, you understand the criteria and you are ready to perform the test. The top 6 ways you can fail your test are:
Speeding - Believe it or not, it's the most common way to fail. If you're nervous, not concentrating or trying to rush through it, you'll find yourself in the red zone
Stopping - Failing to come to a complete stop at a sign is common. Ensure you leave the space in front, to give you room to comfortably come to a complete stop.
Giving Way - Failing to give way at roundabouts and intersections is one of the most common mistakes in driving tests.
Road Position - Are you too close to the car in front of you? Are you veering in the lane next to you?
Signs, lines and markings - Ignoring any of these is displaying low risk assessment, observation and hazard perception.
Blind Spots - Every single time you make a move on the road whether it be turning, merging, changing lanes or moving… make sure you head check
When you know better, you do better
Driving test mistakes get avoided when well equipped. Knowledge is power. Practice is progress. EzLicence gives you the opportunity to maximise both. We want to help you reduce the common mistakes in driving tests with free online practice tests to brush up on your road rules. Skilled, flexible and affordable driving instructors ready for booking your driving journey, you have everything you need to succeed with EzLicence.

Over to you. If you enjoyed this read, share it with your mates
Driving lesson
pricing & packages
Buy more lessons & get more discount