Provisional Driving Test Tips To Ensure You Pass
by EzLicence Last updated 27 Oct 2020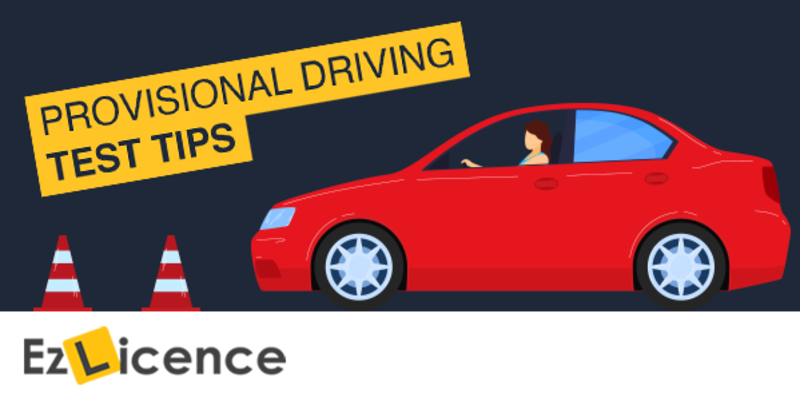 The 3 P's to success with your driving test


No matter whether you are 17 or 70, learning to drive is equal parts exciting and nerve-wracking.

The freedom, the adventures, the wide-open road…

Also, the responsibility, the nerves and the fear of failure…

It's a ride, that's for sure. From the moment you start your research online, get stuck into study, book your driving lessons, to bunny hopping around the car park, it's a rollercoaster.

To help you navigate the process with less bump and more cruise mode, we've developed the 3 P's–Prepare, Practice and Perform.

Whether you are in Victoria, Queensland, WA or NSW driving test tips from our EzLicence experts will give you the confidence boost you need.

Here are the top provisional driving test tips to get that high score in your test and getting rubber to hit the road.

Prepare
Preparation is your top priority as you search for the best provisional driving test tips. Getting the best advice. Feeling confident and aware of potential issues. Having solutions ahead of time will reduce your jitters.

*Review your road rules. Any time you review old information, you pick up new information. And as they say, repetition is the mastery of skill. Giving yourself a refresher brings forward any forgotten tidbits that could spring to mind in a moment of urgency. *Free practice learner tests - Possibly one of the best driving test tips that you can get is EzLicence offers free practice learner tests online. In the familiar format of your real-life test, and with immediate feedback, the practice will definitely help with your road rules knowledge.
*Book a practice driving test just beforehand. Yes, you may have spent hours already in the driver's seat, but a hot lap just before your big race day will help you feel confident, like a well-oiled machine. EzLicence offer driving test packages that give you a 45minute pre-test drive. They even supply a car if you need.

*Know the route. If possible, find out the approximate route for your test. Feeling even a little familiar with landmarks and unexpected road issues, bumps or dips, busy roundabouts or narrow bridges will reduce surprises. A driving instructor will be familiar with their local test routes.

*Be on time. Getting in a car in a rush is never a good idea, least of all when you have the pressure of a test to tackle. If you feel scattered, chances are your driving will be too.

*Have a rest. Being well rested any time you hop in the car is a hot tip. Having your wits about you is one of the best driving test tips we can offer. When taking your driving test a good rest beforehand is super important. Lack of sleep or packing in a busy day beforehand will leave you less alert and more open to mistakes.
Practice
Manual or automatic, driving test tips are great, but without real life practice, they are pointless. Driving an automatic or manual is a choice and whatever your transmission preference, get in as many driving lessons in as you can before the big day.
*Be aware of your habits. Everyone has bad habits and driving habits creep in early. You may have developed a quirky habit of veering a little when you check over your shoulder or pulling out without checking left. Whatever the pattern, be aware and eliminate through practice. If you're booking for your first test ever, read this blog to know what to expect.

*Time of day for the test. It's important to think about the time of day that you will test and practice in this space. Is it busy after school hours? Or perhaps rush hour? In some areas be aware of Saturday soccer run time. You need to be skilled in all times of the day, but to keep the test as shock free as you can, do extra practice in the time slot you'll be taking the test.

*Ask Questions. Never be afraid to ask questions to your driving instructor. Clarity is crucial when behind the wheel. And even better, repeat back the answers out loud to ensure the information sticks.

*Keep quiet. Practice keeping quiet while driving. Turn that music off and keep talking to a minimum to stay focussed, calm and in control.

*Visualisation–nothing is more powerful in practice than visualising what you are doing, where you are going, and how you are going to do it. When you have quiet moments or times when you can't practice in real life, use the time for visualisation. Picturing the practical mentally readies you for the moment.

Perform
Today is the day for the test! You're manual or automatic, driving test tips have been reviewed and you've refreshed yourself with your knowledge of the road rules. You know the route and time of day and have a big sleep under your belt. You're on time and raring to go. Now what?

*Breathe. It's easier said than done, but staying cool when you want this SO BAD is key. Any time you feel stress rising, the act of taking a deep breath will help keep you focussed, present and buy you time as you reclaim your calm.

*Five second signals. It can feel like an age when you are doing it, but always count to five. Signalling for less than five seconds is the quickest way to lose points.

*Blind Spots. Don't be casual, but also don't be obvious! Make a point when checking your blind spots. Particularly the left side.

*Pay attention and repeat information. Listening carefully and repeating information clearly not only give the testing officer a great sign you are listening and in the right headspace, but it cements the information for you.

*Don't rush and don't go slow. There's a lot to be said for not rushing. On the flip side, be aware of not going too slowly. Your moves need to be confident, calm, and deliberate.

You're ready! Go get it.

How are you feeling now? Your 3 P's of passing your provisional driving tests seem straightforward enough, right? Taking the steps to begin your journey is easy when you use EzLicence.

EzLicence driving instructors are selected specifically to support you, guide you and make your driving test journey as easy and stress free as can be. Our instructors were learners once too! And they deal with newbies every day. As soon as you are ready to start your driving lessons, be sure to book your instructor here. Whether you're Victoria, Queensland, WA or NSW driving test tips from our instructors will still give you the upper hand.

Over to you. If you enjoyed this read, share it with your mates