7 Points to Consider When Choosing an Affordable Driving School
by EzLicence Last updated 6 May 2019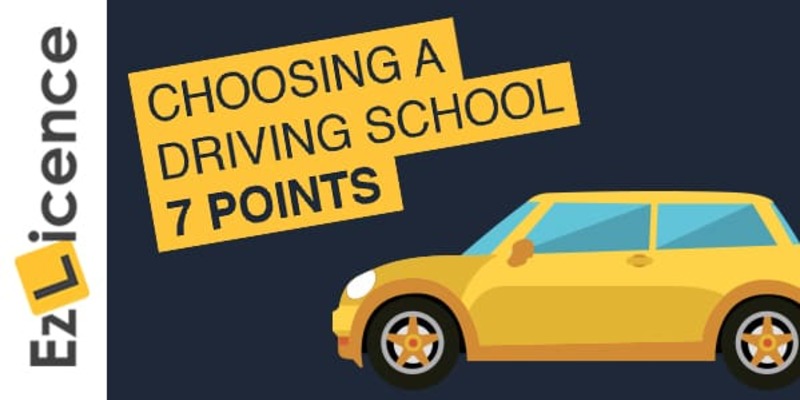 There are so many driving schools and driving instructors vying to teach you, and some will offer the cheapest service, the highest pass rate, or the quickest shortcut to getting your driver's licence. Some of the promises can get pretty unrealistic as they try to outdo each other.
Driving lessons aren't cheap to provide, and rather than choosing the cheapest service, you should choose an affordable option so you don't get stung later with hidden costs. You should also choose the business that does what they claim to, and doesn't overpromise with questionable guarantees.
When looking for an affordable driving school, you should consider the REAL value their driving lessons will provide you, how much flexibility they give students, and how satisfied their previous and existing customers are.
In this article we're going to look at a list of things you should consider and look for when choosing your driving school and driving instructor.
So how do you make the right choice?
Well, when looking for an affordable driving school you should consider the following factors:
1. Are you getting the best value for money?
When choosing a driving school, many people often look for the cheapest available option rather than the one that provides the best value for your money. A driving school that offers cheaper lessons often has to cut corners to provide services, or they just don't include certain features that you would normally get from a reputable driving school (such as dual control pedals, or even having a modern car available). Additionally, is your driving instructor experienced and committed to helping you learn to drive? Or, are they a 'fly by nighter', working several jobs and not very passionate about teaching you to drive.
On the other hand, a driving school that charges too much doesn't normally provide you with a service that justifies spending so much extra on their lessons. When your lessons begin to cost significantly more than average, you may be paying for the name rather than the content of the lesson.
You should find an affordable driving school that's reasonably priced, that provides you with all the essential features at a high quality, that has a good reputation, and that leaves its customers feeling satisfied with their experience.
2. Does it offer keys2drive?
Keys2drive is an initiative by the federal government that offers learner drivers access to a free driving lesson, designed to teach them how to "find their way" and discover the learning style that works best for them.
It's not a traditional driving lesson and requires a parent or supervising instructor to attend the lesson with you, but it's a valuable advantage to have when learning how to drive and it helps learner drivers to become safer drivers in the long term by setting them up for their future, and teaching them how to learn effectively.
For more information, check out our blog article on the topic to learn how you can book your keys2drive lesson, and how it works.
3. Is the schedule flexible at no extra cost?
Life is unpredictable and not everyone can keep to their schedule, so you occasionally might need to shuffle your driving lessons around. Any good driving school understands this and respects the time of both its drivers and its students equally.
Some services will either lock you into an obligation, or they may charge an administrative fee to reschedule your booking, or charge you a punitive reschedule fee. A great driving school will allow you to reschedule your driving lessons when something comes up if you give enough notice, and will let you take your lesson at a more suitable time at no extra charge.
4. Are you charged for cancellations?
Sometimes you'll be in a situation where rescheduling a lesson isn't enough and you just can't make it at all. Why should you be charged for a lesson you won't be able to use?
As long as you give reasonable notice to your driving school, you should be able to cancel your lesson for later use without being charged.
5. How long are the lessons?
Lessons can vary from as little as half an hour to 3 hrs. A lesson that's too short won't give you enough time to really learn anything, and a lesson that's too long is going to be hard to endure and possibly detrimental to your learning experience as you become affected by fatigue, particularly in the early stages.
You may find driving schools offering driving lessons as short as half an hour (or less), and you may find driving schools offering lessons that last for several hours. You should consider how effective such lessons are going to be for helping you to learn.
Lessons of one to two hours in length are long enough that you have time to learn or review skills and then practice them, but short enough in duration that you don't get bored, stressed or fatigued, all of which can lead to poor decision making and dangerous mistakes on the road.
6. Satisfied customers
This is one of the most obvious signs of a good driving school, but it's still worth a mention. If the driving school doesn't have good reviews and satisfied customers (or worse - it has complaints all over its social media and web pages and people are actively saying bad things about it), then the driving instructors or even the business itself might be doing something wrong - whether it's charging too much, not servicing an area properly, or providing poor customer service to students.
A good driving school will have a variety of feedback from satisfied customers by way of testimonials, positive social media interaction, and positive reviews on instructors' profiles. Most importantly though, YOU should feel satisfied after your first lesson.
7. Online booking
Not everyone has the internet so this shouldn't be expected, but it's a massive plus when people have it available to use. Online booking systems allow students to book, manage, and pay for their driving lessons online at any time, and make a driving school far more accessible for learner drivers who don't have predictable weekly schedules.
So now you should have some idea of what to consider when looking for an affordable driving school. To recap, the price for driving lessons should be sensible - if it sounds too good to be true then it probably is - and the driving school should offer flexibility for organising lessons (especially online), provide opportunities to reschedule or cancel lessons, and it should offer bonus logbook hours and keys2drive.
EzLicence provides an online platform that allows learner drivers to book and organise their own lessons online, and services the widest range locations in Australia. Discover which of our driving instructors are near you with the instructor finder form below. Booking driving lessons online with EzLicence is easy and only takes 60 seconds.
Get started today and pick from the largest pool of affordable driving instructors in Australia.