7 Reasons a Driving Instructor Is Super Effective
by EzLicence Last updated 21 Oct 2019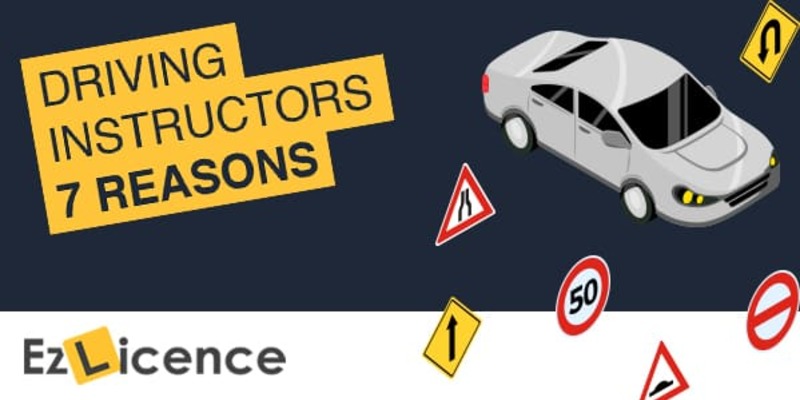 It's often stated that driving instructors are effective, and the Australian government encourages learner drivers to take lessons from professional driving instructors and even offers incentives to learner drivers do so. Many secondary schools are also making efforts to include driver training as part of their curriculum for teenagers, bringing driving instructors in to talk to students, hosting educational seminars from emergency services, and even arranging driving lessons with senior students out on the road.
What exactly is it that makes a driving instructor so important though? What is it that they offer that you can't get from your parents or friends?
It's not to say that parents or friends are bad at teaching - the person learning to drive might not be learning as effectively for a variety of reasons. There may be some unease because of something that happened earlier, the learner driver might be overly worried about traffic or conditions, or there may be a mismatch between teaching style and learning style.
Let's take a look at 7 reasons that driving instructors are a vital part of effectively helping new learner drivers, and how they can help young learner drivers develop skills and behaviours to become safer drivers for the future.
1. Driving instructors make you better at hazard perception
Driving instructors are demonstrated to be better at assisting learner drivers with developing hazard perception skills by providing what is known as "higher order instructions" during your driving lesson.
Apart from the commonly cited "watch the road", parents or friends will often give vehicle handling instructions that help while an event is currently unfolding. These technical skills help you develop and maintain good control over your vehicle, but they are reactionary and you may not always have the appropriate time to react to a hazard.
Driving instructors on the other hand will provide instructions that help a learner driver to prepare for an event before it begins by looking for particular signs of emerging or potential hazards. The instructions given by a driving instructor typically draw the learner driver's attention to specific visual cues or behaviours in traffic (e.g. watching for indicators, or watching other drivers to gauge their intent or awareness), and give the learner driver more time to plan their response to a potentially dangerous situation before it occurs.
2. Driving instructors are unbiased
Did you forget to put out the rubbish today, or did you miss an important social event recently? Luckily your driving instructor won't hold that against you - they're here to teach you how to drive safely, and they're not influenced by other aspects of your life in the same way a parent or friend is.
Often learner drivers that experience conflict during their formative driving lessons will pick up bad habits as a result, and although they may learn how to perform the specific actions while taking the driving test they won't actually be quite as prepared for any unexpected real world driving scenarios afterward.
Taking at least some of your driving lessons with an instructor lets you focus on learning how to drive properly, so that when you're practicing with a parent or friend you can focus on using the skills you already know. This allows you to benefit by learning from a dedicated teacher and then practicing with your preferred supervising driver through a wider variety of conditions and times.
3. Driving instructors' vehicles often provide a safer experience
Parents will obviously do everything they can in their power to protect their child, but when you're driving a vehicle and they're sitting beside you as a passenger, they are much more limited in the support they can provide.
While many driving instructors will accommodate you if you want to take your driving lessons in your car, most will usually teach you in their own vehicle for safety. These days it's very common for instructor's to have their car fitted with dual control pedals that provide them with some control at all times. While it's not usually necessary to have dual controls as a learner (such as when learning with a parent or friend, or in your own car), these pedals allow the driving instructor to take control of the brakes or accelerator if they have to take action to avoid or get you out of danger.
4. You're more likely to drive in modern, insured vehicles
Most of the time it's a much more comfortable experience learning to drive in a newer vehicle, not only because the interior is a lot more user friendly but the vehicle itself is less likely to give you trouble. For some learner drivers who might be have to contend with poor controls in the car they have at home, having access to an instructor's vehicle lets them focus on learning to drive.
As a learner driver your attention should be firmly on the lesson at hand, and the last thing you need is car trouble lingering in the back of your mind. Driving instructors (such as those available through EzLicence) are typically required to have to have a modern vehicle with a good ANCAP safety rating, insurance, and pass regular inspection for road worthiness.
5. They provide a good balance to your learning experience
The average number of driving lessons with a driving instructor is around 7 to 10 sessions. That means that if you're with in Victoria or New South Wales, you'll spend around 10 to 15 hours with a parent for every hour you spend with a driving instructor.
By spacing out your driving lessons with an instructor, you can find a balance between learning new skills or behaviours from a qualified professional and then practicing them in a more relaxed setting to gain confidence.
6. Bonus log book hours (some states only, NSW and QLD)
It's already been mentioned that the Government is taking initiatives to encourage learner drivers to access driving instructors, but it's actually a bit of a shortcut to getting your licence too in some states.
If you live in New South Wales or Queensland, in addition to the free Keys2drive lesson, you may also be eligible to make use of the bonus log book hours scheme which awards learner drivers additional driving experience for driving with an appropriately qualified driving instructor.
This scheme allows a learner driver to record 3 of recognised hours of driving experience for each hour of actual driving, for up to a total of 30 hours recorded from 10 hours of actual driving. In other words you can save yourself up to 20 hours of required driving practice by learning the right way from a professional.
7. Better chance at passing the driving test
When it comes time to take your driving test, you'll be supervised by a dedicated driving test assessor who will mark your competency for a variety of skills and behaviours, ranging from driving in traffic and obeying street signs, to slow speed manoeuvres such as reverse parallel parking and 3 point turns.
One of the best ways to prepare for your driving test is to take a few driving lessons with a driving instructor and go over what is expected of you during the test. By getting in a few practice runs with a qualified driving instructor in a more relaxed environment, you can use their professional feedback and guidance (without the pressure of instant failure for making a mistake) to build your confidence before moving on to the real test.


While teaching your family or friends a new skill can feel very rewarding (especially as a parent), driving a car is quite a bit different to most other life skills. Accidents while travelling by vehicle continues to be one of the leading causes of death for Australians aged up to 44. It's important to make sure that you maximise your safety by learning good behaviours and driving technique during this stage because it will be the formation of your future driving behaviour.
Any bad habits learnt now may not be so obvious while you're driving under restrictions and with L or P plates granting you the lenience of extra-cautious traffic, but as soon as you graduate from your plates to your full licence there's an expectation that you'll behave in a certain way on the road.
So does this all mean you should only use a driving instructor then?
A combination of driving lessons with parents (or friends) and professional driving instructors is shown to be the best approach to learning to drive safely.
A few driving lessons with a qualified driving instructor will allow you to learn without distractions, picking up the correct behaviours and techniques from an unbiased teacher in a high quality vehicle with safety assurance. Between sessions with your driving instructor you can then apply the skills and behaviours you're learning to reinforce them, and then use your following lessons to gauge your improvement and get feedback on your progress.
By the end of your logbook, you should be confident, capable, and ready to pass your driving test first time!
To get started with a driving instructor today, simply enter your suburb postcode into the instructor finder form below to view, compare, and choose from driving instructors near you.