What's in the Driving Test and Why Is It Necessary?
by EzLicence Last updated 23 Aug 2019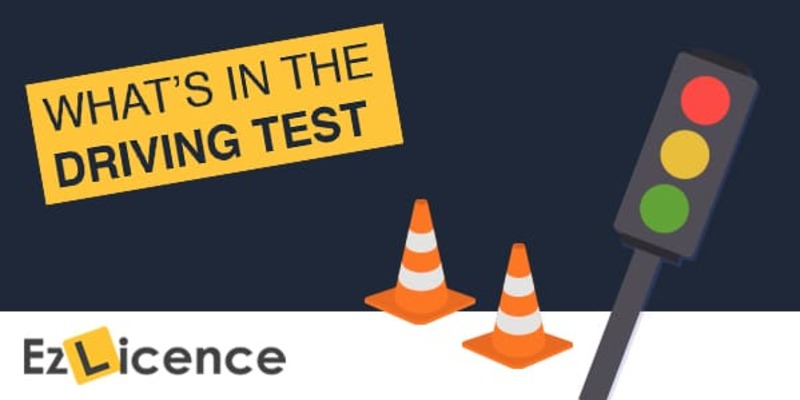 So you've completed your log book hours - which may have been as much as 120 hours of driving experience depending on your age and the state you live in - and now you have to do a driving test. Understandably it's still pretty daunting for a lot of learners, and for others it can seem a bit annoying that you need to do yet another test. You've already done all this driving, so why is it necessary?
The driving test is an important stage in a learner drivers progression to driving solo, because it shows that they're capable of performing a wide variety of manoeuvres safely and confidently. When you begin driving by yourself you won't always have the reassurance of a great driving instructor at your side, telling you what to do. You will need to be capable of handling a range of conditions, hazards, and scenarios by yourself, and the driving test is the testament to your ability to navigate these challenges.
So what exactly is involved in a driving test?
Let's dive right in!
Eyesight test
Hold on a moment - before you actually get in the car, you might be required to have your eyesight checked. Some states in Australia require you to pass a vision test as part of the driving test to ensure you're safe out on the road. This test is usually performed at an office of your state's local road authority, and doesn't take more than a few minutes. If you fail this test, you'll be required to obtain the appropriate vision correction aid (such glasses or contact lenses) from a specialist before you can continue with the on-road portion of the test.
When you and your vision are good to go, you'll meet your driving test assessor who will take you out to begin your test.
You climb into the driver's seat, and you will now be tested on…
Road worthiness of your car
Okay there's one final step before you begin the test - that's making sure the car you've brought along for the driving test is actually in roadworthy condition, and suitable for the test. The driving test assessor has to make sure your vehicle doesn't have any obvious defects or alterations that could either negatively affect your safety or have an impact on the test.
Once your vehicle is cleared for use and your driving test assessor is satisfied, you can now climb in car and begin the driving test with...
The dashboard, console, and controls
Yep, you're still probably not quite ready to move off from the kerb just yet depending on your state and its testing requirements. There might be a simple knowledge test of the car's interior, so it helps if you're doing the test in a vehicle you are familiar with - however you should be able to correctly identify the necessary components of any vehicle you are legally qualified to drive.
If your state's laws require you to as part of your test, your driving test assessor will ask you to identify various components of the dashboard and interior of the car, including (but not limited to):
Indicator and headlight controls
Demister controls
Windscreen wipers
Radio controls
Air conditioner controls
The accelerator, brake, and - if your car is manual transmission - clutch pedals
This is to ensure you know where to locate the control you need quickly and accurately, and minimise the likelihood of distraction while driving. The assessor needs to see that, for example, if your windshield vision is suddenly obscured by rain or bug splatter (for instance rain) while driving, that you will know where to reach to activate the windshield wipers without taking your eyes off the road.
Driving etiquette
You'll now be required to drive around on various roads, demonstrating your ability to obey the road rules and drive alongside traffic under real world conditions. Your driving test assessor will be paying close attention to your driving behaviour, making a note of how you follow (or ignore) the road rules, and how you react to other traffic.
You are required to demonstrate that you know the road rules and comply with them, and will be assessed on all components of safe driving. This includes following the speed limit, indicating lane changes and turns, appropriately following the directions of road signs, and more.
Hazard perception
This does not mean the actual Hazard Perception Test (HPT), which is a separate test performed at a computer must successfully be passed in order to take the driving test. Rather hazard perception is a factor that is considered throughout the duration of your onroad driving test, and will influence your final result.
While you are taking the test, your driving test assessor will be paying attention to your level of awareness and your reactions to immediate and emerging hazards. Hazard perception is not limited to just the general driving section, and will still be observed and recorded during slow manoeuvres where you will need to remain mindful of potential pedestrians, other traffic, and the environment around you.
Car control (slow speed manoeuvres)
During this section, your driving test assessor will test you on several slow speed manoeuvres such as:
3 point turns
Angle park
Reverse parallel parking
U-turn
Hill starts
The specific manoeuvres tested may vary by state, however you should be prepared to perform all of them. Even if you are not required to complete all 5, your testing officer will still require you to perform most of them throughout the test and you won't know ahead of time what those will be. You will be required to perform all of them in the future eventually.
You will be given a limited number of opportunities to successfully attempt each manoeuvre, and if at any time while attempting a manoeuvre you breach the law or act dangerously, you will fail the test immediately.
Your confidence
Remember to stay calm and relaxed. Yes, you are taking a test, but you also should have gained around 100+ hours of driving experience by now - this test is simply putting the skills you've developed to use and showing what you know.
In addition to your driving ability, your testing officer will also be looking at whether your driving matches the conditions. If you are driving well below the speed limit, or checking your blindspot three or more times when the way is already clear, your testing officer will see that you are uncertain and lack the confidence to drive unaided.
The best way to build confidence is of course practice, practice, practice, and...

Being prepared
One last thing to mention about the driving test is that you need to be prepared - not just mentally, but also by having a few essentials with you. Unlike regular driving lessons where you specify a designated pick-up and drop-off point, the driving test typically starts and ends at one of your local road authority's offices. You are required to provide a vehicle (which must pass a physical inspection by the driving test assessor) and be accompanied by a fully licenced driver - if you fail the test, you cannot drive away and will require a licenced driver to be with you.
One of the best ways to prepare and ensure you pass the test is to use a driving test package, which allows you to warm up with a driving lesson before the test and then use your driving instructor's car during the test itself. Doing the test in your driving instructor's car can give you a mental edge, since you'll already be primed and familiar with the vehicle you're driving in, and you can spend more time focusing on the road - not on the car. Starting off on the right foot will make your test a much more enjoyable time, and you'll make less mistakes.
If you'd like to book a driving test package then check out our driving test packages, or if you're not quite ready then feel free to check our range of driving instructors using the instructor finder form below.
Driving doesn't have to be hard - make getting your licence easy with EzLicence.