Learning to Drive at Any Stage
by EzLicence Last updated 24 Jul 2019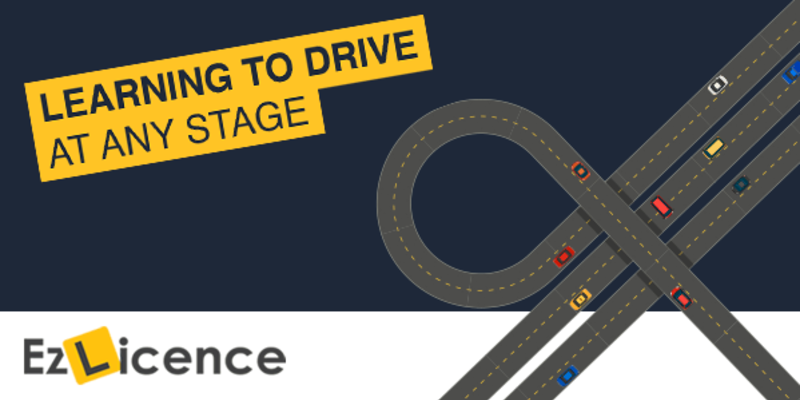 The average age of learner drivers has been steadily increasing as many people put getting their licence on hold.
In the past when a drivers licence was much easier to obtain, being an older learner driver raised questions. However, as a result of increasingly complex road rules, improved access to public transport, and vehicle expenses, an increasing number of people are learning to drive at later stages in life. It's now fairly common for us to see people going for their licence for the first time who are aged in their 20s, 30s, 40s, or even older.
Is an older learner driver any better or worse than a younger learner driver? Is there an ideal age to learn to drive? If someone has managed to get to a certain age without learning to drive, why would they start now?
Answers to all of these questions, and your learning experience, largely depend on a variety of factors. Whatever the case, Australian licensing laws require drivers to spend an extensive period on their learner and provisional licences before progressing to a full licence, and you can ensure you make the most of your learning experience by having the right approach to learning.
But is there a difference in learning to drive as you get older?
Let's look at how you should approach the learning process:
Click any of the links in the list to jump to that section.

As a school leaver (16 - 19)
At this stage, a lot of questions come to mind for aspiring learner drivers who are keen to get their licence early and start driving. Questions we've seen include:
Can I get driving lessons at 16?
Can you do driving lessons without theory test?
Are driving lessons mandatory?
The minimum age to get your learners licence varies by state, but is around 16 to 17 throughout most of Australia (for your state, check with your local state transport authority). Regardless of state, you are required to pass a learners test before you can begin driving anywhere in Australia.
Naturally there is a desire to be the first (or at least not be the last) of your friends to get your learners licence and start driving, and about two thirds of people will still attempt to get their licence at this point.
Whilst driving lessons are not mandatory by law, they are strongly encouraged by the road authorities. In some states, driving schools and qualified driving instructors can help you progress to a P1 licence faster by providing reductions in the hours you need to complete in your logbook through legally recognised Government approved schemes such as bonus logbook hours. These schemes count one hour of learning from a qualified driving instructor as being equivalent to up to 3 hours of driving under regular supervision.
In your early 20s
As we move into the early 20s stage, a lot of people will have a bit more financial freedom. Learners in this age are a bit more likely to have easy access to a vehicle for practicing in, and aren't as likely to feel pressure to rush through getting their licence.
Questions from learners at this age are usually more concerned with how lessons fit into a person's schedule, and may be:
Are driving lessons worth it?
How long are driving lessons?
Can I do driving lessons without a car of my own?
As a learner driver at this stage, you should still focus on pacing yourself. If you want to start driving for work or leisure, then it can be well worth using driving lessons to get to or from work, class, or local places you otherwise might not be able to go. Driving instructors will often provide their own vehicle for use during a lesson (at no extra cost), so it's not a problem if you don't own a vehicle. You can choose the length of your driving lessons, the most common durations for driving lessons are 60 mins, 90 mins or 120 mins.
A qualified driving instructor is also proven to be more effective than parents or friends at teaching you when you are learning to drive, and an average driving lesson of one to two hours is shown to provide significant benefits to students by giving ample time to both discussing and practicing new skills. Additionally, people who don't get driving lessons fail the driving test in very high numbers.
In your late 20s
A large number of learner drivers begin their journey later in their 20s, having chosen to commit their early 20s to University, TAFE, and other similarly time intensive commitments.
At this age, learner drivers tend to be somewhat confident about learning but are a bit more cautious about risk taking. Many will also be renting and will be conscious of money. In your late 20s, you may find yourself wondering:
How much will driving lessons cost me?
Why are driving lessons so expensive?
Is it possible to get driving lessons for free?
You may find one or two instructors offering expensive driving lessons, and you may find some offering cheap lessons, but we found the average price to be around $60-70 per hour. If you're paying more than that, you might not be getting good value for money, and if you're paying less than that you should be wary of hidden costs or corner cutting. We addressed some of the reasons behind what dictates driving lesson prices in another article.
There is however, a legitimate way to get a free driving lesson - through the Government funded "Keys2drive" program, which helps driving instructors and supervisors plan the best way for young learner drivers to prepare for the future. Read our blog on this topic for more information.
In your 30s
For a lot of learner drivers starting in their 30s, there may be a sense of obligation and social pressure that's pushing them.
At this point, they may be feeling a bit anxious about learning because they may feel they're too far behind everyone else. Questions asked include:
Is there a limit to what age driving lessons are available?
Are driving lessons for older learners still as helpful as for young learners?
What are intensive driving lessons, and how are they different?
There is no "best by" age for learning to drive, nor is there an age limit on when you can get driving lessons. You should try not to be deterred by the fact you don't have your licence yet, nor should you feel like you have to rush through the process to make up for lost time. With the instruction and guidance of an experienced driving instructor, you can get on the road confidently and safely at any age - driving lessons are equally beneficial to learners of all ages. Driving instructors are regularly helping people learn to drive later in life.
Intensive driving lessons are just regular lessons offered as an intensive week of driving with an instructor, and really offer no great benefit over regular lessons. In fact we find it's better to space several driving lessons out over a few weeks so you have time to practice your new skills and then have your instructor assess how you're going and provide feedback.
In your 40s and later
When you're in your 40s, chances are you've probably established yourself in your own mind as a passenger. This can be a difficult mindset to overcome, however with the right instructor and approach, you can gain the skills and confidence to get in the driver's seat.
When going for your licence as someone with an established life and schedule, you may have questions such as:
How do I find time for driving lessons with family to look after?
Are driving lessons required to get a license or can I do it myself?
What if I just get driving lessons and tips from friends?
While driving lessons are not a legal requirement, one on one lessons with a qualified driving instructor will help you plan how you practice driving to suit your learning style. Lessons can also be arranged flexibly around your schedule, so you don't have to sacrifice any important family time to do them.
Your friends will likely want to help, especially if they are experienced drivers. You may, however, find you develop any bad driving traits that they have picked up over the years which can cause problems in the future. With the support of a qualified driving instructor you can make sure you learn to drive the right way, and correct any mistakes or bad habits so you stay safe (and don't rack up demerit points) on the road.
When you already have your licence
That's right. A lot of existing drivers seek out refresher driving lessons to learn new driving skills or simply to rebuild confidence. Refresher driving lessons can be useful for a range of reasons, such as when you haven't driven in a while and need to learn new skills, when you're learning to drive in a new country, environment or vehicle, or when you're simply lacking confidence.
Questions we have been asked include:
What are refresher driving lessons?
Can I get refresher driving lessons with my own car?
Refresher driving lessons are aimed at drivers who already have an existing licence who want to restore skills and confidence, or learn how to navigate a new area. Driving instructors are capable of providing lessons either in their own supplied vehicle at no extra cost, or in a learner's supplied vehicle - if that's preferred.
Ultimately, getting your licence is a matter of taking your time and putting in the hours to practice. You can speed up the rate at which you learn, check off your log book hours, or gain confidence by investing some of your time on the road practicing with a qualified driving instructor.
EzLicence has over 100 driving instructors available across New South Wales and Victoria, servicing over 1,000 suburbs. To find out which instructors are available near you, enter your suburb into the search bar below.