Stay at Your Best with Refresher Driving Lessons
by EzLicence Last updated 25 Sep 2019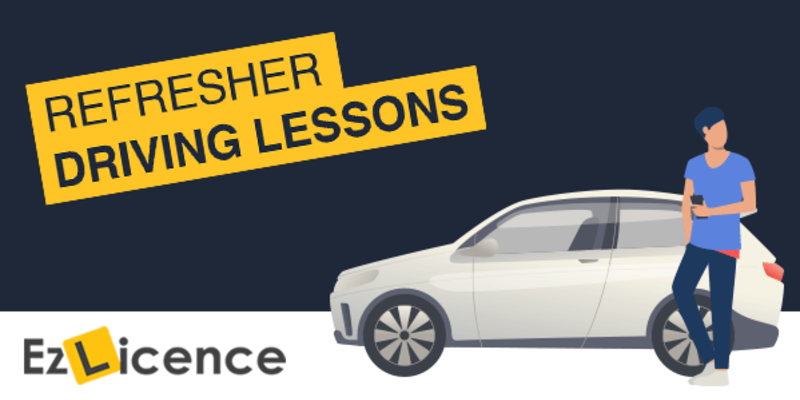 Losing the ability to drive, or having a limit imposed on where you are able to go can be a major challenge to your independence. It's especially hard when you are used to being able to drive yourself where you need to go at any time. Life is constantly changing though, and for whatever reason you may find yourself out of practice, out of confidence, or simply lacking a particular driving skill that you want to pick up now.
Could refresher driving lessons help?
Many drivers seem to think so!
Refresher driving lessons are actually quite a common request we receive, but a lot of people still don't really know what they are or who accesses them (you might be surprised).
So let's talk a bit about refresher driving lessons.
What is a refresher driving lesson exactly?
Refresher driving lessons are designed for drivers who already have experience and want to either learn new skills, learn a new driving environment, or who want to practice and develop existing skills and experience with the support of a qualified driving instructor.
Your driving instructor will take you out for a driving lesson that focuses on identifying which of your skills could use some work, and then developing strategies to repair them and get you back up to speed.
Who benefits from refresher driving lessons?
Driving lessons are for a variety of current or previous drivers! Does any of the following sound like you?
Fear of driving, or driving anxiety
If you've been driving for a while but notice that you feel anxious when you're sitting in the driver's seat lately, then you may find some a few casual driving lessons help you recalibrate your confidence and shake off the nerves. With a bit of feedback and guidance, you can pinpoint any bad habits your fear might be causing and fix them before they start to impact on your safety while driving.
Restricted driving licence
If you previously drove with a licence restricting you to automatic transmission, but now you're interested in learning to drive with manual transmission, then you may find a few driving lessons in a car with manual transmission and an instructor who specialises in manual driving lessons to be incredibly helpful.
Driving in a new area, or returning from abroad
Often it can be a bit of a shock to your system trying to adjust to city driving when you make a move from the country (the reverse happens too), or when you return home from a few years in another country. It may be the same basic action of driving a car, but it just feels so different in a new place - and then there are the rules. Admit it, you've noticed the strange behaviours of drivers in other cities and countries, and you've noticed the absence (or prevalence) of weird signs, lines, and road designs.
If you have just moved and find you are struggling with the confusing road rules, layouts, or traffic behaviour, then a local driving instructor who is qualified to give driving lessons can help you adjust quickly. As a local, they will be able to explain the strange behaviours, road layouts, and other new challenges, while as a qualified driving instructor they will be focused on making sure you're not breaking any laws or putting yourself in danger.
Senior driver
If you are a senior aged over 75, refresher driving lessons may help with maintaining fitness for driving. Seniors aged 85 or over are required to pass an on-road driving test every two years, and may find refresher driving lessons help them remain prepared.
What vehicle is used for a refresher driving lesson?
As with regular driving lessons, you will usually have the option of using either your own vehicle or a vehicle supplied by the driving instructor.
Vehicles supplied by instructors such as those available through EzLicence are equipped with dual controls for added safety, and must have a proven high ANCAP rating for safety before being approved for use in driving lessons.
If you choose to use your own vehicle for a refresher driving lesson, the vehicle you nominate to have your lesson in must be clean, registered, insured, and roadworthy.
How can I book?
Refresher driving lessons can be booked online through EzLicence in as little time as under 60 seconds! Spend your time where it counts - on the road learning, not on the phone. To get started, enter your suburb into the instructor finder form below to begin browsing your local driving instructors so you can compare details and choose the one that's right for you.
When you've booked your driving lessons, you can log in to access your booking info and manage your lessons online at any time through the online portal.
Much like any other skill you learn, safe driving is a combined set of mindset, actions, and knowledge, all of which need to be maintained in order to be used effectively on the road. Our qualified instructors can provide updated knowledge and useful tips for drivers of any age, experience, or skill level to ensure you're at your best out on the road.